The 2019-2020 Wallace High School 1stXV will be remembered as one of the most skilful and breathtakingly attack-minded squads ever to grace the pitches of The Wallace High School. They retained the ability to score tries from all areas of the pitch even in the most pressurised of situations and were able to win against all top Ulster Schools. However, on the other side of the ball, especially in The Schools' Cup Semi-Final victory over holders Methodist College (MCB), it was their attitude and physicality in defence which saw them through to The Schools' Cup Final.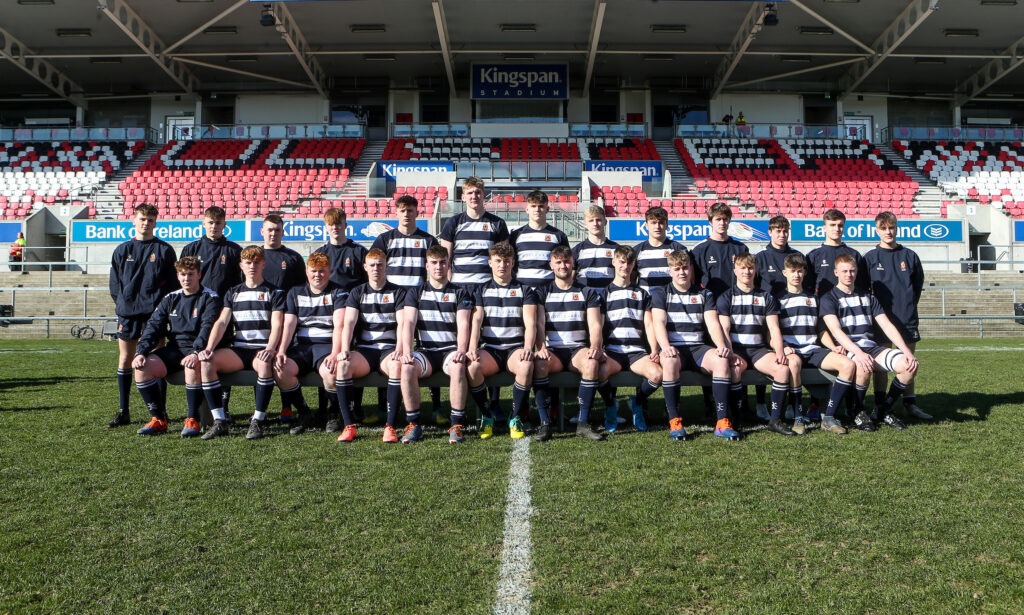 The core of the squad, was undoubtedly, our Year 14 pupils, Reuben Crothers (Capt.), Harry McMeekin, Jamie McNeight, Joel Dundas, Nathan Doak, Jack Dillon, Lewis Nelmes and Ben Carson. In The Schools' Cup run, these were the go-to men who had experience and maturity to make decisions in pressurised situations and enabled the team to find a way to solve problems. Their need to win was contagious and adopted by the upcoming Year 12 and 13 pupils and facilitated the formation of a formidable squad.
As Year 8 pupils…
The ability of our Year 14 pupils was evident from the early days in Year 8, some seven years earlier and this is clearly seen from an abstract article at the conclusion of their first year at Wallace.
'The Year 8 Rugby have finished a tremendous season with two major victories, winning both the prestigious Coleraine Inst and Down High School tournaments. Wallace have gone through the season unbeaten, beating all top Ulster opposition including MCB 33-5, CCB 40-0 and RBAI 29-10

At the 20 team Coleraine tournament Wallace beat CCB7-0, Willow Park B 33-0, Ballymena Academy 21-0 in the group stages before defeating Sullivan 19-0 in the quarter-final and RS Dungannon 12-0 in the semi.

The final was against Willow Park A team and after going behind Ben Carson scored midway through the second half and Nathan Doak converted to give Wallace a tight 7-5 victory. This was the first time Wallace have won the Coleraine Inst tournament in their history.

In the Down HS tournament Wallace defeated Regent House, Bangor GS, Grosvenor GS and Friends in the final by 7-5.'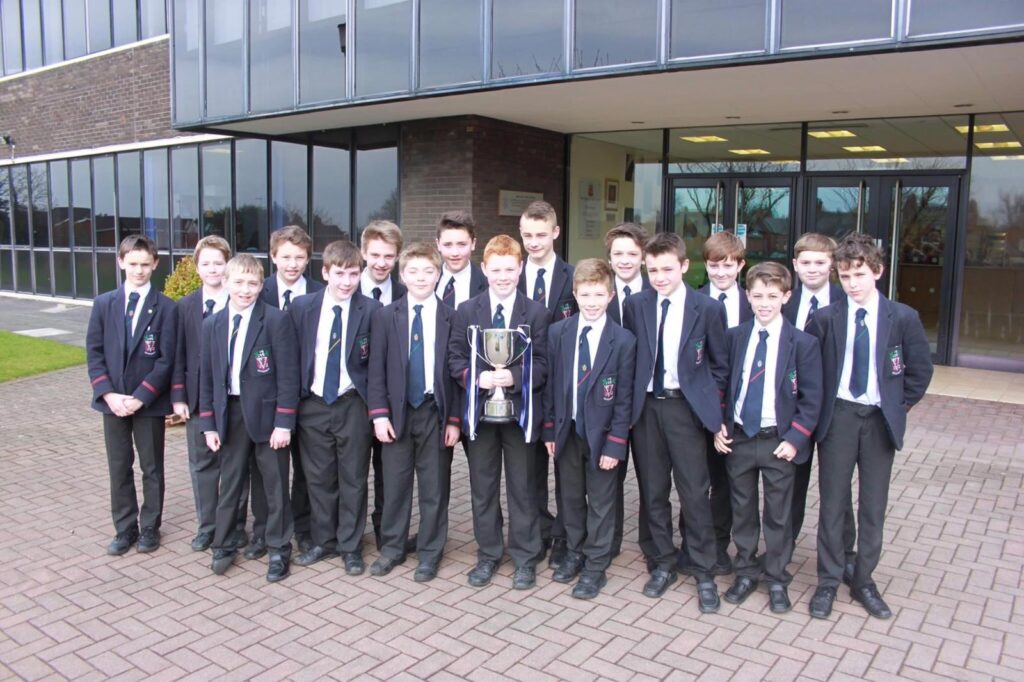 Of course, the success of the 2019-2020 squad was not solely down to this year group. The skill progression, hard work and dedication of seventeen Year 12 & 13 pupils was also a major factor in the success of the squad. Pupils such as Charlie Irvine, Peter Heasley, Harry Wallace, Scott Wilson, Thomas Brolly, Finn Rankin and Cameron Doak all showed tremendous passion and commitment. With much of the attention going to our high flying year 14s, it was these pupils who developed physicality, mental toughness, resilience and a desire to improve their personal performance.
The aim of this group of players and coaches was to win The Schools' Cup for the first time in the history of Wallace High School. From Year 8, each player knew the importance of The Schools' Cup to Wallace, having grown up watching older teams from the stands of Kingspan and dreaming of a day when it would be their opportunity to perform.
Due to competition for places the bench for the Schools' Cup matches remained fairly consistent but the majority of players got pitch time and all showed in performances for the 2nds and in 1stXV training, that a steep and fast learning curve was being developed and this was particularly evident post Christmas. Players such as Nicholas Macklin Copeland, Ethan Gilliland, Matthew Thompson, Ethan Dunbar, Harvey Patterson, Carter McCluskey, Joel Wiseman, Philip Kennedy and Zac Lindsey helped to create competition at practice and strength and depth to our squad. These guys will become the core players for future years and hopefully their experiences from this year will help them to further the rugby reputation and traditions of Wallace HS.
The coaching structure through the year groups was designed to develop continuity and progression. The work to prepare the players was now at a professional level, with not only high level pitch and video analysis sessions orchestrated by Derek Suffern (Director of Rugby) but also quality gym sessions coached by Tom Finn our S&C Coach. The addition of Ben Best, our Sports Psychologist and forwards coaches Kyle and Zack McCall meant no stone was left unturned in the quest for The Schools' Cup.
The Regular Season
The season began with the opening fixture with St.Gerard's, Bray on Saturday 31st August. With so many players involved in Ulster Schools' matches, preparation had been affected and but it was a solid opening victory at home by 26-12. A 31-27 loss away to Ballymena Academy proved to be our only defeat of the season to Ulster opposition and this was quickly followed by victories versus CCB, Enniskillen RGS and RS Armagh. Further victories against MCB, RBAI, Ballymena Academy and Roscrea proved to be significant and added to the squad's belief and confidence as the 2020 Schools' Cup appeared on the horizon.
The Schools' Cup Campaign 2020The Schools' Cup began on Saturday 8th February, 2020 with an away victory at Bangor GS by 33-6. Captain Reuben Crothers put in an immense performance and scored two tries, Harry McMeekin, Ben Carson and Nathan Doak scored a try apiece and Nathan Doak kicked four conversions. In the quarter-final, a very talented Enniskillen GS arrived at Wallace and in a tense affair, Wallace booked their semi-final place with a 19-10 victory thanks to tries from Cameron Doak, Finn Rankin and Peter Heasley. Nathan Doak kicked two conversions. Photos below.
Schools' Cup Semi-Final Wednesday 4th March, 2020 Kingspan Stadium
Around seven hundred pupils and staff left Wallace HS on a beautiful early March afternoon on thirteen buses. Expectation and excitement were palpable as face painting, supporter signs and chanting echoed around school. MCB were the cup holders and would not give up their title easily. We were not to be disappointed, as a cracking semi-final between two well drilled outfits graced Kingspan Stadium.
Wallace started the game with intent and asked questions of MCB's defence. Centre Ben Carson thought he was in for the opening score but for a fantastic try-saving tackle. However, it was not long before Wallace got on the scoresheet through a well-taken Nathan Doak penalty after three minutes.
MCB enjoyed a spell of pressure with a penalty and opted for a lineout well inside the Wallace 22, but great line out defence and a loose ball allowed Nathan Doak to put put in an enormous clearing kick.
The Belfast side had opportunities to come back into the game in the opening quarter, but Wallace's defence held firm through excellent tackling, organisation and accurate defensive ruck decision making. This gave Wallace a number of key turnovers which helped to alleviate pressure.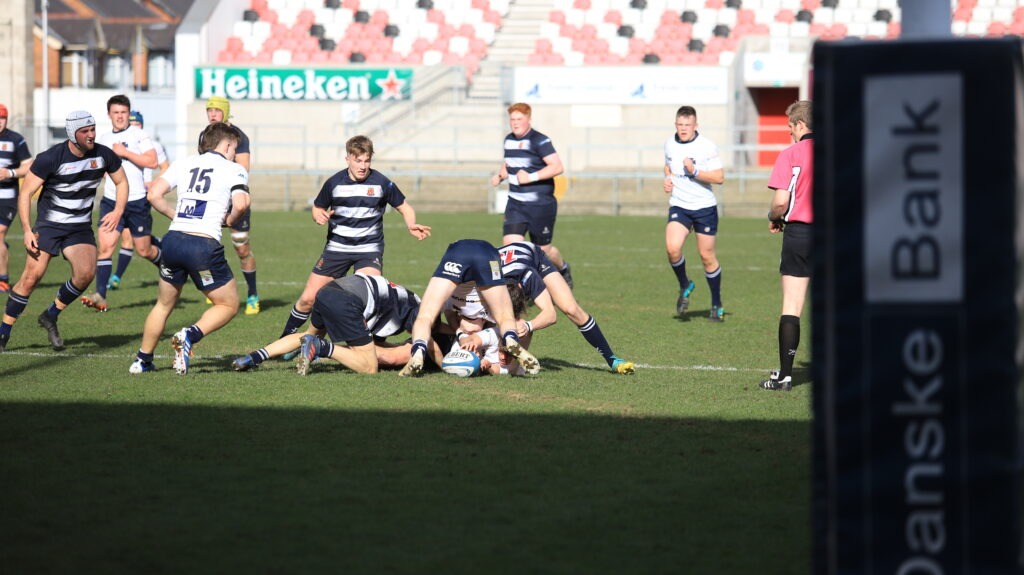 However, after a prolonged attack from MCB, centre Callum Davidson spotted an opportunity during a period of advantage to make a fantastic cross-field kick to Callum Doherty on the right wing who went over for their first try. Davidson's conversion attempt drifted just to the right of the posts.
Wallace soon responded, when centre Jack Dillon showed real acceleration to weave his way through the MCB defence to score under the posts.
Just a minute later, Dillon's centre partner, Ben Carson, created a further try on the stroke of half time, his strong running making it impossible for MCB's defence to stop.
Nathan Doak duly fired over the conversion.
Half-time score: Wallace High School 17 Methodist College Belfast 5
Wallace had absorbed a lot of pressure in the first half and MCB came out firing after the break. However, Wallace's watertight defence and the boot of Nathan Doak meant the Belfast side couldn't turn pressure into points.
MCB showed real patience when camped on the Wallace line, but a thundering tackle by Jamie McNeight caused his opposite number to knock-on, once again giving the Lisburn side breathing space. Time and again, the line out defence from Wallace was well-designed and thwarted the attacking MCB maul.
Wallace scored their third try through the influential Jamie McNeight, going over in the corner after a fantastic team move involving multiple phases.  The strong running of Peter Heasley punched holes in the MCB defence and along with a soft offload from Joel Dundas allowed time and space for the backs to pass to the edge. Doak's touchline conversion just missed.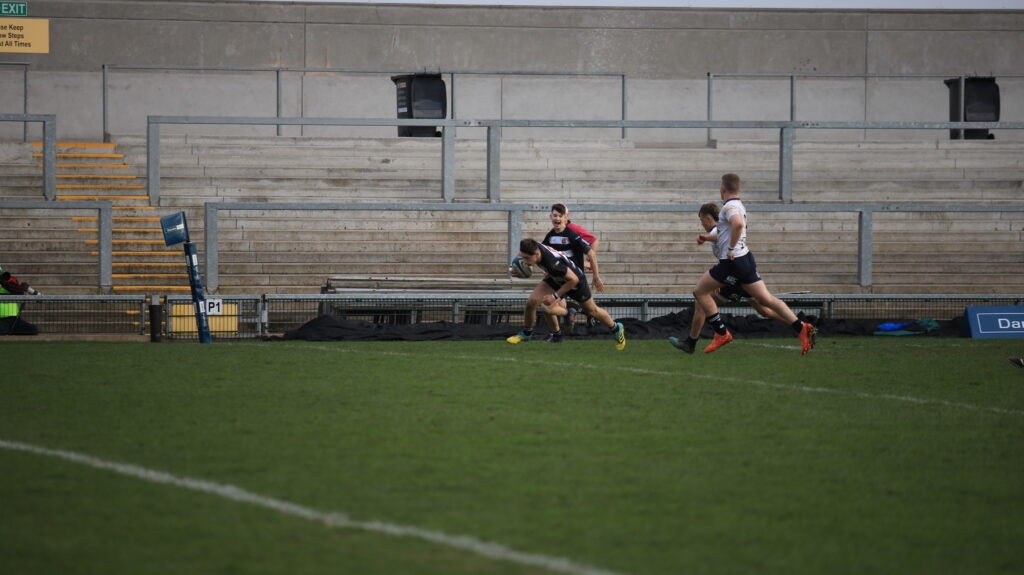 MCB scored their second try, capitalising on a yellow card and full-back Conor Spence scored in the corner for the Belfast side. Callum Davidson's difficult kick fell just short of the posts.
A late attack and close-range strike by MCB saw their hooker score and the conversion from Callum Davidson was not enough to snatch the lead from the Lisburn side.
Full-time score: Wallace High School 22 Methodist College Belfast 17
Wallace High School
15-9: Jamie McNeight, Harry Wallace, Jack Dillon, Ben Carson, Finn Rankin, Nathan Doak, Lewis Nelmes.
1-8: Cameron Doak, Joel Dundas, Scott Wilson, Thomas Brolly, Charlie Irvine, Peter Heasley, Harry McMeekin, Reuben Crothers (Capt.).
Replacements: Evan Gilliland, Robbie Davis, Nicholas Macklin-Copeland, Matthew Thompson, Philip Kennedy, Harvey Patterson, Carter McCluskey, Joel Wiseman, Ethan Dunbar.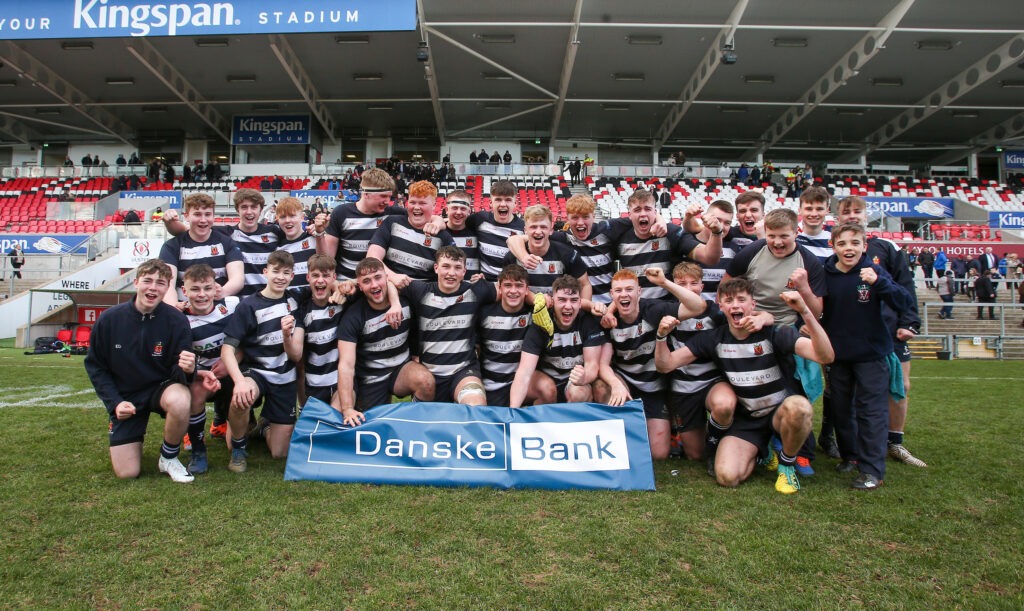 Photo: A Jubilant Wallace HS 1stXV after their 22-17 Schools' Cup Semi-Final Victory over MCB at Kingspan
Great footage of the day is available from the BBC in the following link.
Schools' Cup Uncut: Wallace book final spot
Go behind the scenes with BBC Sport NI as Wallace High secure their spot in the final of the Schools' Cup by beating holders Methody.
Sadly, Wallace did not get the chance to play RS. Armagh in The St. Patrick's Day showpiece as the Coronavirus pandemic swept through the UK and Ireland and life for everyone changed immeasurably.
The 2020 Wallace HS 1stXV gained a share of the trophy and came the closest Wallace team to winning The Schools' Cup. Their name will be forever etched on the trophy and they should be immensely proud. They have further enhanced our growing rugby reputation in Ulster and Ireland.
Representative Honours
There is a long list of representative honours this year and we would like to thank Ulster Rugby for all the work they do and the opportunities they give our pupils. Ultimately, we want our players to continue playing rugby after they leave school whether that is for Ulster, Ireland or in club rugby.
Nathan Doak Ulster A, Ireland U19 & Ulster U18
Reuben Crothers Irish U18 Schools & Captain Ulster U19
Ben Carson Irish U18 Schools, Ulster U18 Schools & Ulster U19
Joel Dundas Ulster U19, Ulster U18 Schools, Ulster U17
Jamie McNeight Ulster U18 Schools
Charlie Irvine Irish U18 Schools & Ulster U18 Schools
Peter Heasley Ulster U19, U17 & Ulster U16
Finn Rankin Ulster U18 Schools & Ulster U16
In a first for Wallace, in terms of numbers, we are very proud that Reuben Crothers, Nathan Doak and Ben Carson have signed Ulster Academy contracts and we look forward to following their progress in the years to come.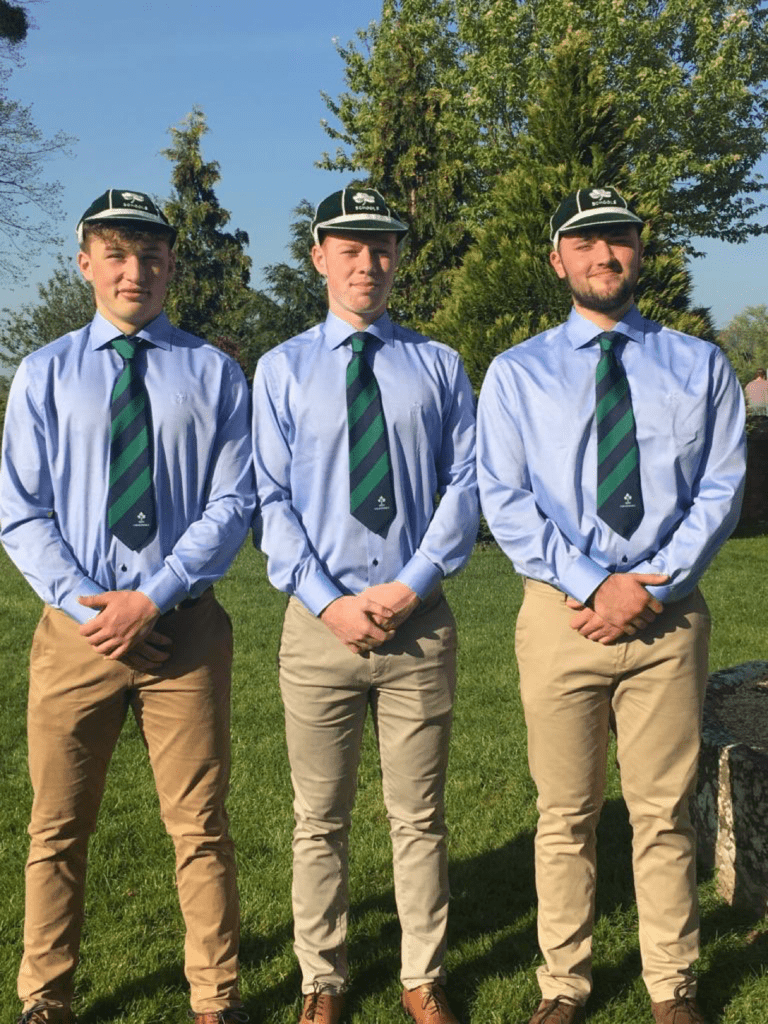 Thanks
Firstly, thanks must go to the tremendous work ethic, technical expertise and analysis of our Director of Rugby, Mr. Derek Suffern. He consistently, in the course of the season, showed passion, motivation, determination and an unfaltering focus on detail to ensure our players were the best prepared rugby players ever to play in The Schools' Cup from Wallace HS. He was ably supported by forwards coaches Kyle and Zac McCall, backs coach Mr. Ian Latham and video analyst Mr. Alan Monteith. To Tom Finn, our S&C Coach and Ben Best, our Sports Psychologist, who spent long hours coaching in our new gym and helping to develop positive mindsets on the rugby pitch and in life. The work that these two guys have done this year has really added to our rugby coaching structure.
Indeed, all rugby coaches at Wallace HS, who have helped to coach these players at younger age groups, deserve credit for their hard work and dedication to improving our pupils' skill sets and helping to develop positive attitudes. Also, to our local rugby clubs and coaches who have started many of our players' rugby education at mini rugby. Your input cannot be underestimated.
Secondly, to the parents of our players, who bought into what we were doing as a rugby club and ensured that kits were washed, players arrived on time, got up early in the morning to make breakfasts, arrived to collect pupils in the evenings etc. In the course of the season it was important that our players respected the parental effort and showed appreciation for it.
Thirdly to our Principal, Mrs. Deborah O'Hare, who has supported our rugby staff and players throughout the season and helped to develop a state of the art Strength and Conditioning Suite. Also, to our teaching staff, who came to support and supervise pupils at matches and also permitted players to be excused from classes. To our groundsman, Harry, who works hard through all weathers and has produced better and better pitches at Wallace HS each year.
Fourthly, to our sponsors, The Boulevard Banbridge and Kukri. Without your investment in the team, these achievements would not have occurred.
Finally, to all our pupils and supporters thanks for creating special memories for our players throughout the year, none better than the semi-final at Kingspan Stadium. Make sure you continue to support at our matches and follow us on twitter @wallacesport. You really do make a difference!
Mr.N.A.Hinds
Head of PE
Master i/c Rugby & Cricket
Last modified: June 8, 2020