A capacity crowd appeared to hear former pupil and Irish rugby star Jacob Stockdale talk about how his Christian faith impacts his life. To the shock of the teachers (and perhaps even Jacob Stockdale himself!) we realised that Jacob had left Wallace before the current Year 14 arrived.
Table of Contents
In a packed and fun-filled afternoon Jacob participated in a quick fire round of "Would you rather…?" when he shared his preference for (among other things) Tayto over Walkers, Audi over BMW, dogs over cats and ten pin bowling over ice skating.
These revelations were followed up by some sporting challenges with table tennis bats and hula hoops; Jacob triumphed in the former but one of our Prep pupils, Harvey, won the latter very convincingly! Jacob and Deputy Head Boy Matthew Halliday participated in the cunningly devised build a tower with a cucumber while eating Jacob's Crackers (couldn't make it up!) with a highly competitive Jacob a clear winner.
Jacob Stockdale Q&A
The core part of the afternoon had been billed as a Q & A with Jacob and the questions were many and varied. His most unusual fear is eyes, his "something in the house I don't want" turned out to be the cushions to "dress" the bed, his first car was a 1998 Corsa with lots of rust and as a child he wanted to be an airline pilot.
His career highlight to date came in 2018 scoring against New Zealand in front of 60,000 people and his career low point came in the same stadium in 2019 when playing for Ulster, he dropped the ball, knocked it on and effectively lost both the match and the team's progression into the championship.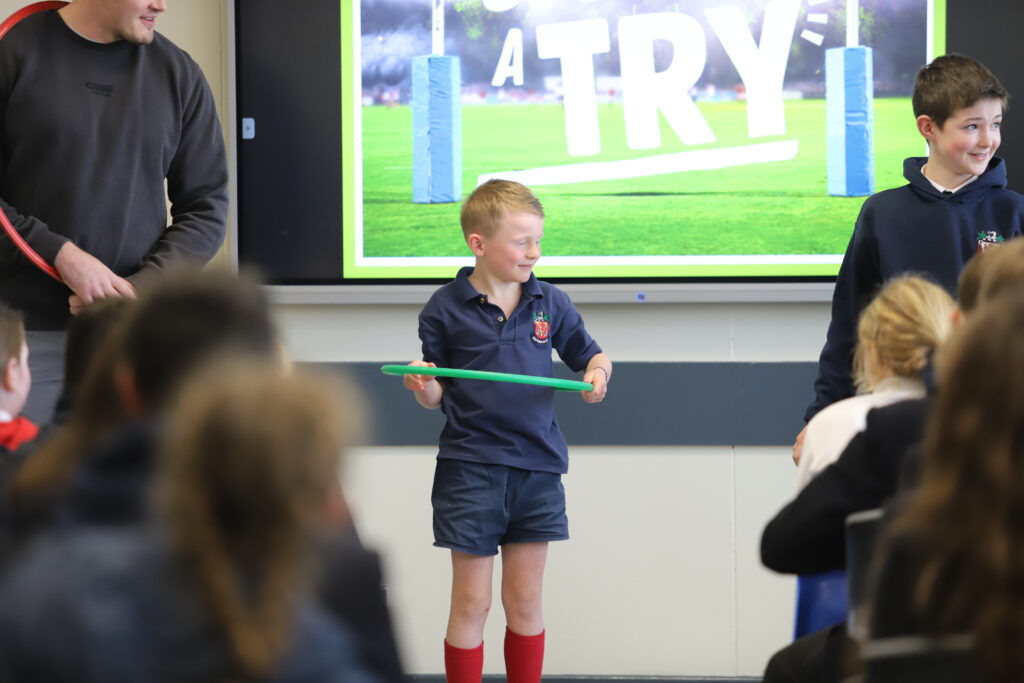 Speaking of those who have influenced his faith most Jacob identified his father Rev Graham Stockdale, who works as a prison chaplain and his mother; he also noted that Andrew Trimble and Ruan Pienaar at Ulster rugby had been inspirational. Jacob agreed that professional sport is a challenging arena for Christians as there are practical issues such as often missing getting to church and having your behaviour constantly under scrutiny.
Referring to the low point of his career in 2019, Jacob explained how he had been subjected to vicious comments on Twitter from trolls but had drawn great comfort from his faith as "I knew that God loved me."
The afternoon concluded with some pupils praying for Jacob with the major themes being the health of his grandfather, the health of his expectant wife Hannah and the well-being of baby Stockdale, currently twenty- one weeks and growing steadily!
Jacob Stockdale Visit Photo Gallery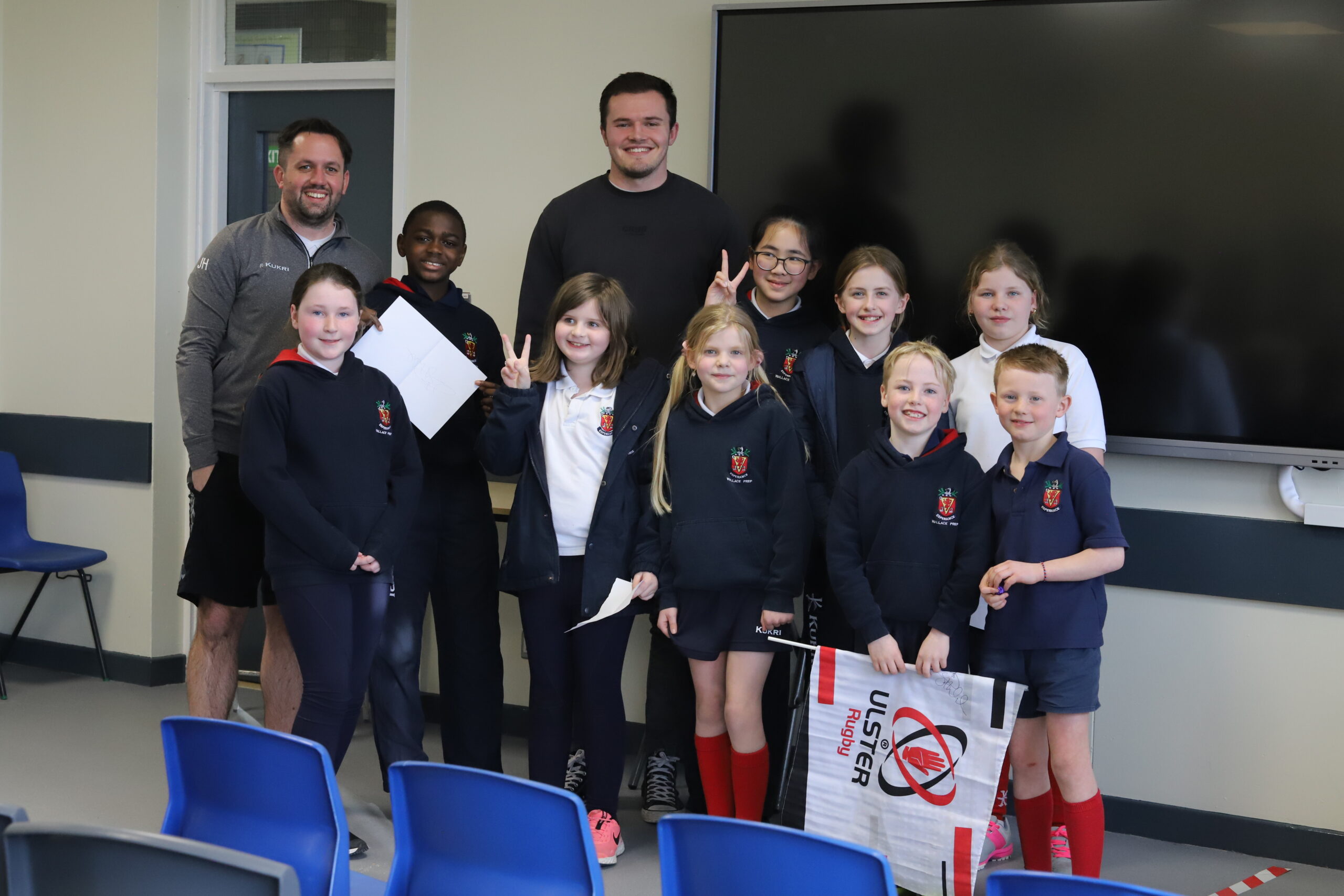 Our thanks are due to Jacob for giving so freely of his time and for proving such an inspirational role model to his listeners. As Jacob observed "I believe God gave me the talent to play well for Him. The better I play the more chances I get to speak for Him. My gifts are from God. I try to give them back."
About Jacob Stockdale
Jacob Stockdale, born on January 14, 1996, in Cooley, County Louth, Ireland, is a renowned rugby player celebrated for his exceptional skills as a fullback and wing. He emerged as a rising star in Irish rugby, making his international debut in 2017.
Jacob Stockdale's blistering speed and try-scoring prowess quickly earned him a stellar reputation. He played a pivotal role in Ireland's triumph in the 2018 Six Nations Championship and represented his nation in the 2019 Rugby World Cup. His ability to break through defensive lines and his safe hands under high balls have solidified his status as one of Ireland's rugby talents to watch.
Last modified: September 25, 2023