As a school we pride ourselves on the fact that our boys are proudly competitive and highly successful in both hockey and rugby which is no mean feat in a co-educational school of our size! We also pride ourselves on the fact that our PE department staff are supported by colleagues from other departments in the successful management of our teams. The following report comes courtesy of Mr Neil Armstrong, Head of the History and Politics Department, who is no stranger to a hockey pitch having enjoyed successes whilst a hockey player at Wallace. As he'd be the first to note, our facilities are much improved! A very big thank you to Mr Armstrong for all his hard work during the hockey season.
The 2021-2022 season for Wallace High School 2nd XI boys' hockey team ended with great success in winning the 2nd XI Dowdall Cup.
Ably led by Captain Adam Stafford, the team began its cup season with a very successful run in the Prior Shield. The team topped its group with victories over Sullivan, Regent House and Royal and Prior. A victory over Bangor Grammar in the quarter-finals set up a tough game against Banbridge Academy at home in the semi-final. Despite a hard fought match, the mighty twos couldn't come back from two very early goals.
Driven on by senior Year 14 squad members and Captain Stafford the team members bounced back with greater determination to complete their hockey careers at Wallace High on a high.
A hard fought battle against a feisty Royal and Prior team set up a local derby with Friends' School, Lisburn. As expected in all local school cup ties this was a strongly contested game but goals by Michael McIlroy and Captain Stafford were enough to send Wallace into the final of the Dowdall Cup and another epic battle with Banbridge Academy loomed.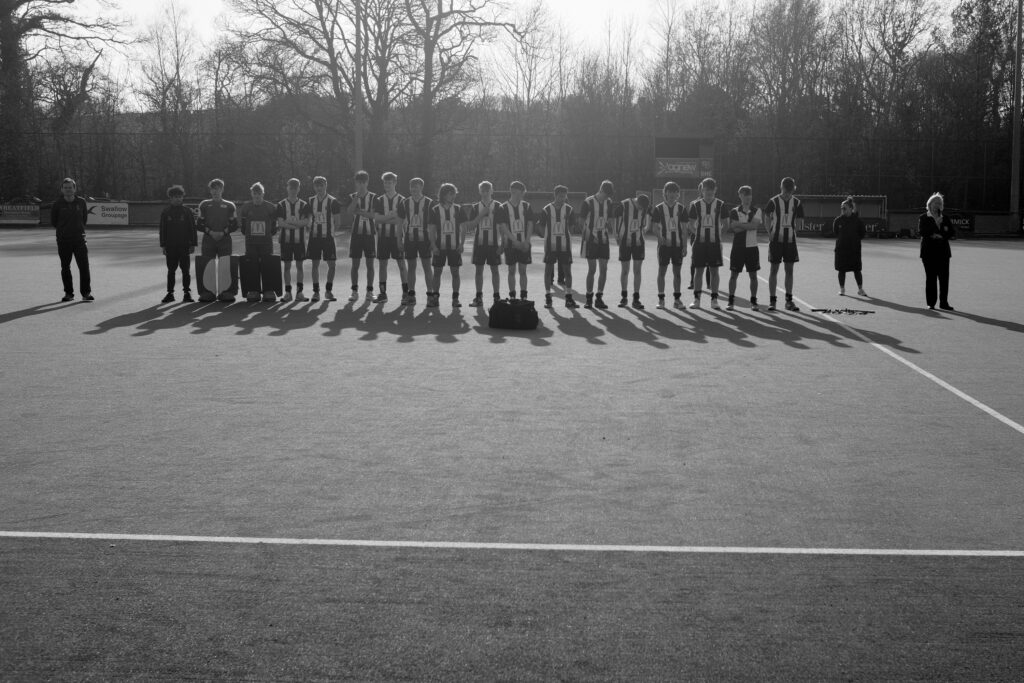 The scene was set for a true clash of 2nd XI titans at Havelock Park in Banbridge. The Wallace 2nds had only lost to one other 2nd XI this year … Banbridge in the semi final of the Prior Shield! This was a chance for revenge and the vision of celebrating seven years of school hockey with a cup victory was the focus the team needed to seize this opportunity.
Contested over four quarters, with a small crowd of ardent Wallace supporters to cheer them on, Wallace got off to a great start, winning a series of penalty corners in the first quarter; however, the Banbridge defence stood firm.
In the second quarter Banbridge were first to strike the backboard. It was time now for Wallace to step it up again if they wanted to win this trophy. With hard work from the frontline and midfield, the pressure began to build on Banbridge and whilst the penalty corners didn't work out, during an inspired spell of play Michael McIlroy was once again at the right place at the right time to slot home a goal at the post.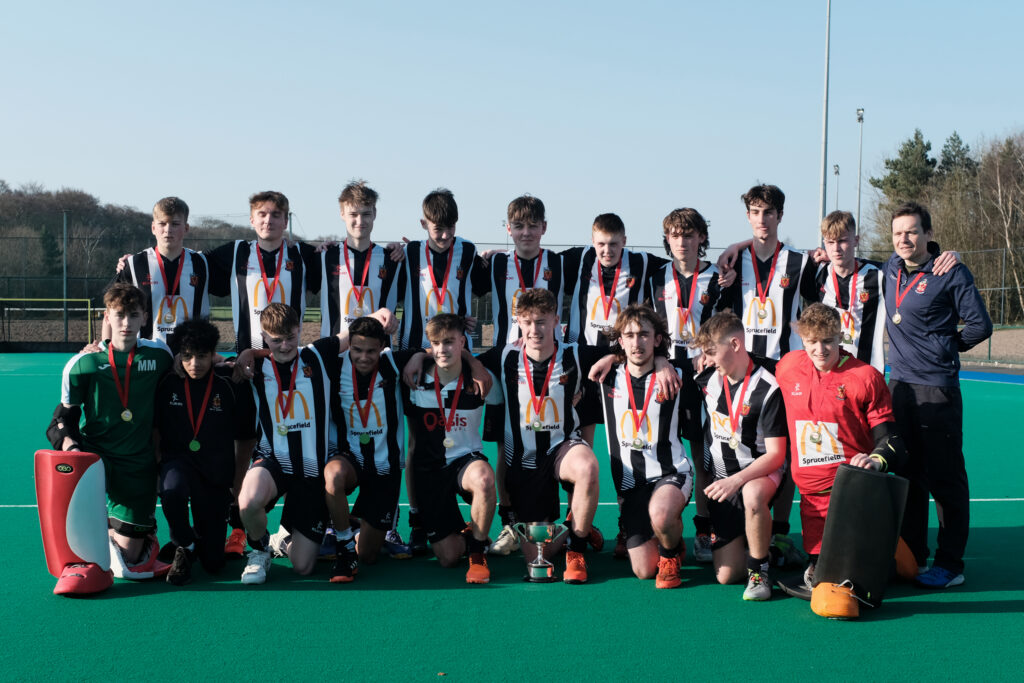 This goal turned the tide and Wallace would dominate with some excellent play from Josh Kamalrajah, Jack Crawford, Todd Benson, Jamie Stephenson and Pierce Thompson in midfield.
The forwards, led by Jacob Williams and Harry Robb worked alongside Matthew Andrews, Michael McIlroy and Josh Millar to keep an amazing amount of pressure on the Banbridge backline. This pressure would eventually pay dividends, when Captain Stafford would once again step up to join a galaxy of Wallace sporting heroes by scoring the second goal.
In their turn, Banbridge applied pressure and despite some fabulous defensive work from Captain Stafford, Calum Flack, Ben Marks, Ewan Patterson and Ben Calderwood, they finally won a penalty corner. A few minutes lingering on the clock, the score line still 2-1…these are the moments which determine schoolboy sporting glory.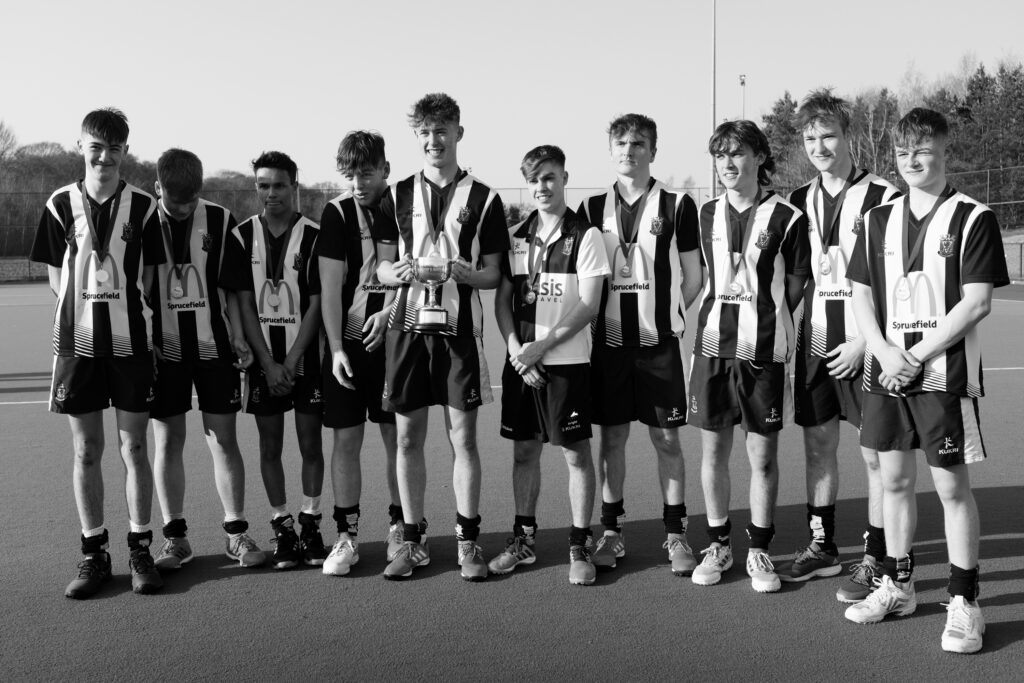 The penalty corner defence remained calm and didn't let the occasion faze them as Ben Calderwood blocked the drag flicker and the team fought to clear its lines.
When the final whistle blew, jubilant team members rushed together to celebrate.
Special mention must go to our two keepers, Connor Henry and Mathew McLernon who worked exceptionally hard throughout the season to keep the team in every competition, denying the opposition multiple times in every game.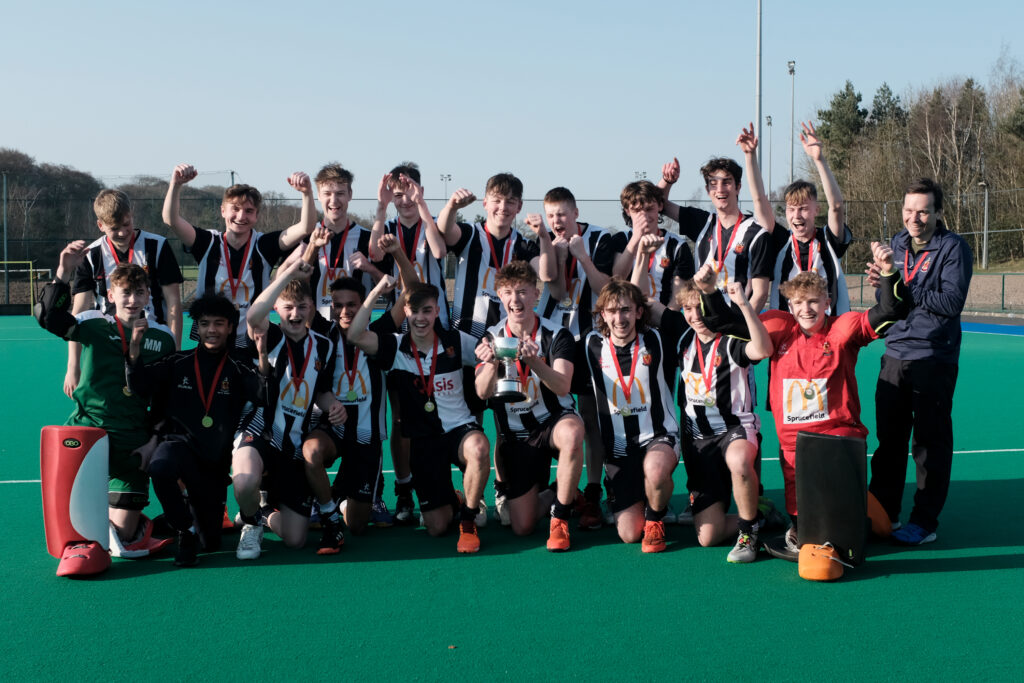 We hope that this competitive triumph proves some consolation for everything the boys missed out on during the pandemic and trust that our Year 14 leavers will continue to enjoy playing hockey at local clubs or university.
Last modified: April 7, 2022