Between 14th and 22nd October, Wallace High School pupils joined over 2000 schools across Northern Ireland and the Republic of Ireland to celebrate Maths Week 2023. Maths Week aims to promote positive attitudes towards mathematics and to advance the understanding of mathematics and its impact on our world.
While every week is like Maths Week for the Maths Department at Wallace, pupils and staff enjoyed the opportunity to celebrate Maths by entering competitions, solving problems and playing Maths related games. Activities took place in Maths classes along the middle corridor all week, with many opportunities for pupils to stretch their thinking, challenge themselves and have fun! From making 24 from numbers in car registrations to deciphering meanings of symbols in strange looking equations, there was plenty for pupils to engage with.
Table of Contents
Maths Olympiad
The Maths Week Olympiad is produced every year by Living Maths and individual papers are created for each year group. The Olympiad consists of 20 problem-based questions and 5 bonus questions, designed to be accessible for a range of pupils. The later questions were designed to challenge even the best mathematicians and teachers were delighted to see some pupils rise to that challenge.
The Olympiad has served as an excellent warm up for the Junior and Intermediate Mathematical Challenges which will take place after Christmas. Many students from Years 8 to 11 participated, and a significant number achieved Bronze, Silver or Gold certificates. Notably, in Year 10, Rory McCartney and Ethan Wiggam proudly secured Platinum certificates.
Gallery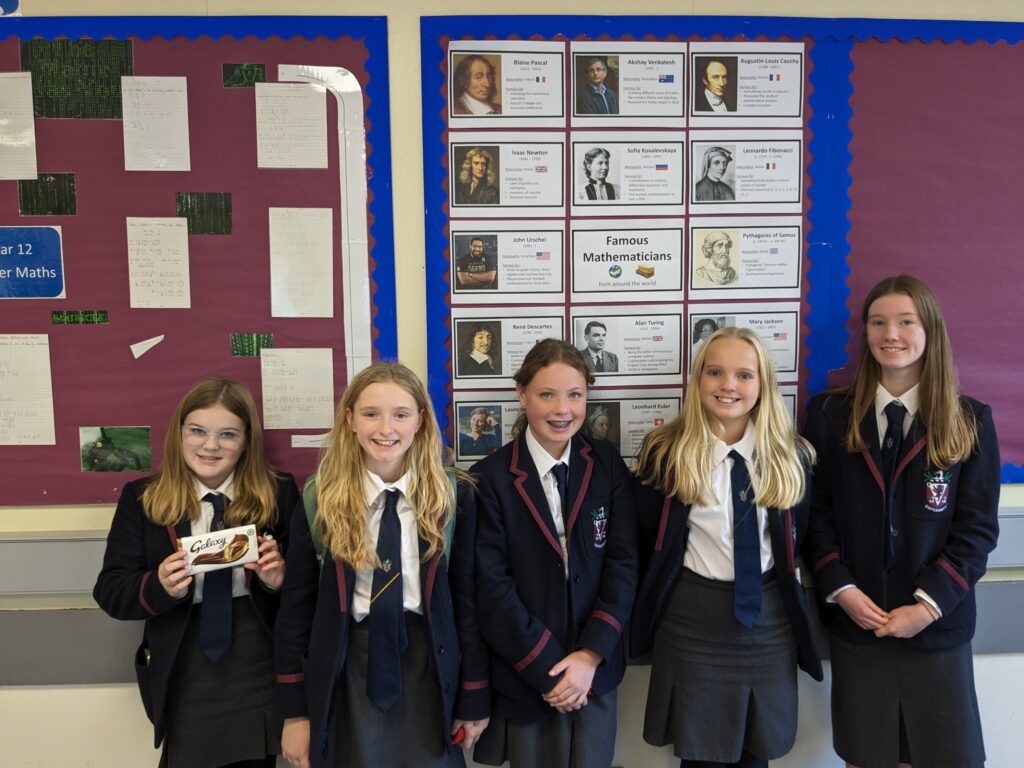 Rubik's Cube Challenge
Another exciting aspect of Maths Week was the Rubik's Cube Challenge. The Rubik's cube has been a symbol of mathematical intrigue since the 1970s and many have attempted to learn the various algorithms required to solve it. The world's fastest time is currently only 3.13 seconds. The Rubik's Cube fever arrived at Wallace shortly before Maths Week with Mrs Elliott and some of her pupils leading the way and setting incredible record times.
Year 12 student Carter Hazley finished the week with the fastest time of 0:09.93 and has even undertaken the challenge of teaching Mr Cleland how to solve it. Some pupils learned to solve a Rubik's cube for the first time, while others recorded new personal bests. Other notable times included Daniel McIntyre with 0:27.65 and Joshua Booth with 0:48.89. Mrs Elliott and Mrs Cousins are aiming to climb the ladder with times of 1:43.62 and 2:30.66 respectively. The leaderboard will continue beyond Maths Week so pupils are encouraged to keep aiming to improve their times.
Times Tables Rock Stars
Times Tables aren't just for Primary School and remain an essential part of learning Mathematics. Quick recall can help with spotting patterns, answering questions and solving problems. This week, some of our KS3 pupils participated in the Ireland Rocks tournament which saw pupils from across the country answering times tables questions as quickly as they could to earn points and move up the leaderboard. The three "most valued players" were Daniel Rainey (Year 9), Lorcan Keenan (Year 8) and Conor O'Reilly (Year 9). Jacob Loyal had the highest score from those in Year 10.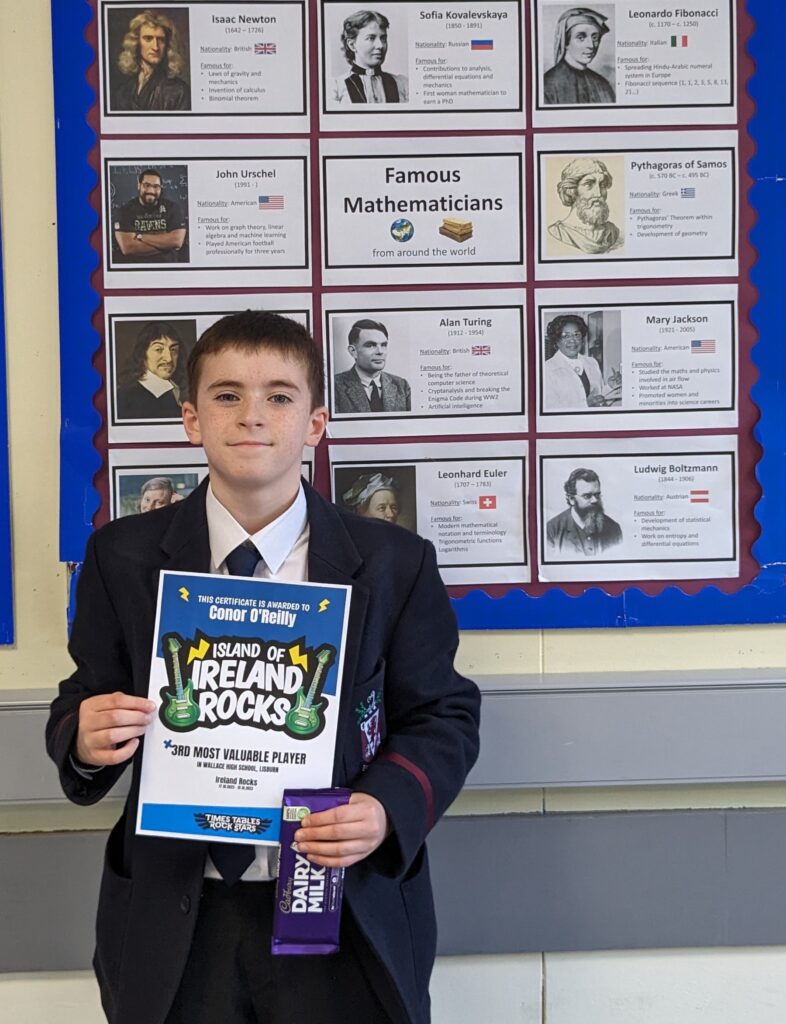 The next major event in the Maths calendar is Pi Day in March, where pupils will be given further opportunities to enjoy Maths, solve problems and see the impact of Maths around them. Pupils can expect more competitions and prizes throughout the week.
Head of Maths, Mr J English, summarised the importance of Maths Week 2023:
"Maths Week is always worth celebrating and it is important that we give pupils the opportunity to view Maths differently and to enjoy the challenges that they are completing. The fact that we are joining in with schools across Northern Ireland and the Republic of Ireland, adds an extra dimension to these challenges.Well done to everyone who took part!"
Please join our Wallace community by following our social media feeds on Instagram, X and Facebook
Last modified: November 14, 2023