Wallace's annual sporting Oscars saw the Team of the Year announced as the 2nd X1 boys' hockey team. Co-captained by Dawson Cleland and Michael Jones and coached by the redoubtable, irrepressible Armo (formally known as Mr Neil Armstrong) the boys carried all before them this year to achieve the impressive double of winning the Prior Shield and the Dowdall Cup. For the year 14 students on the team in particular this was an evening to be savoured as a finale to their school hockey careers. In recognition of the team's success a presentation, featuring superb photography by Vice Principal Mr Cleland, showed the audience some of the highlights of their campaigns.
Hockey loomed large on this evening of celebration as the guest speaker was Mr Graham Shaw Head Coach of Women's Hockey Ireland. Appointed to the role in 2015, Graham Shaw is one of Ireland's most decorated players; he earned 151 caps between 2002 and 2009. As an international coach he has gained plaudits in coaching circles for his robust professionalism which has led to the return of the Irish Squad to the European A division. An audience of 120 young games players and staff members listened eagerly to a lively Q&A session hosted by Year 14 students Alyssa Jebb and Patrick Hunter. The young presenters skilfully elicited a range of facts and opinions from Graham: he had trials to be a professional footballer at Oxford United and Liverpool, he played professional hockey in Belgium, he disapproves very strongly of sexism in sport and thinks that female players have a better work ethic than their male counterparts!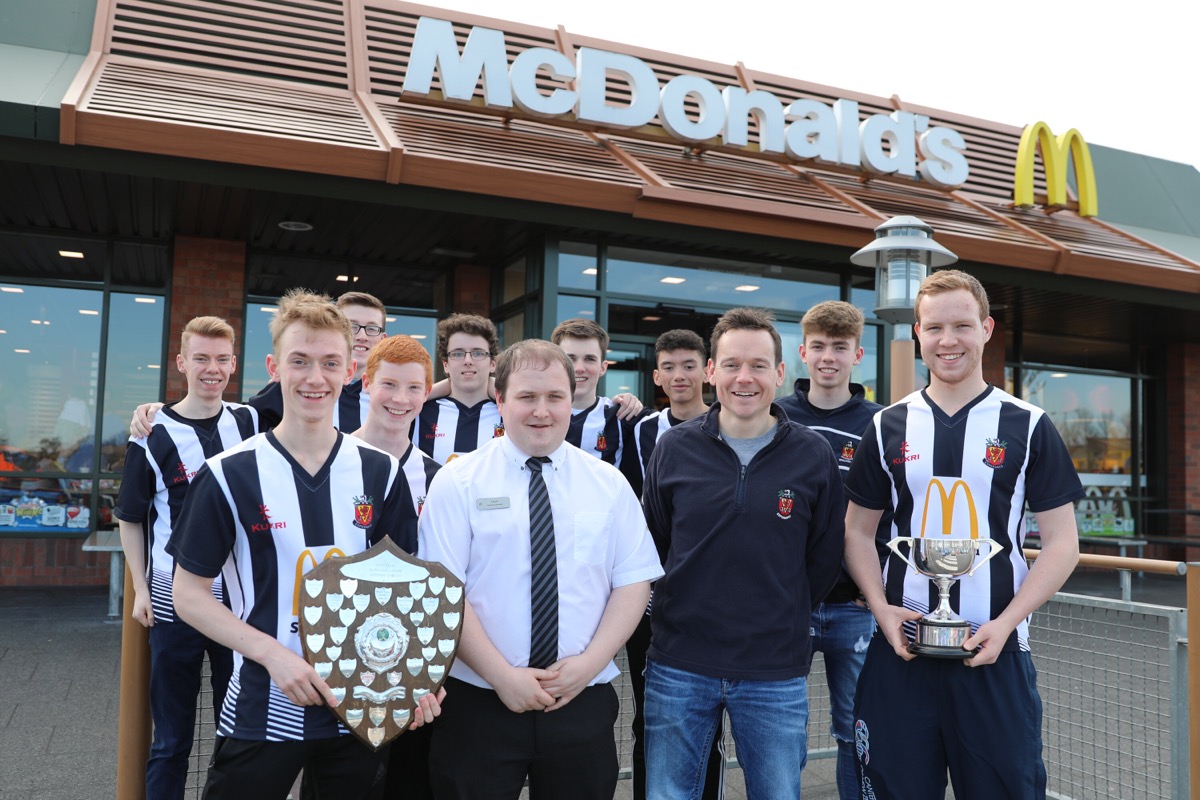 Asked to describe the qualities of the "perfect international sports player" in three words (Jeremy Paxman, eat your heart out!)  Graham barely paused before he articulated his answer; his initial responses "competitive" "skilful" perhaps predictable but his final choice of "humble" gave food for thought to his audience in an era when self-promotion characterises the conduct of some.
The evening also saw the introduction of a new category of recognition; the Wallace Sports personalities honoured students described by staff as the "heartbeat of their team or squad" and who show "commitment to their sport". The students received medals in acknowledgement of their passion and sportsmanship; recipients varied between high profile students such as Beth Stephenson (an international badminton star) and younger students whose "fame" currently rests within the walls and grounds of Wallace.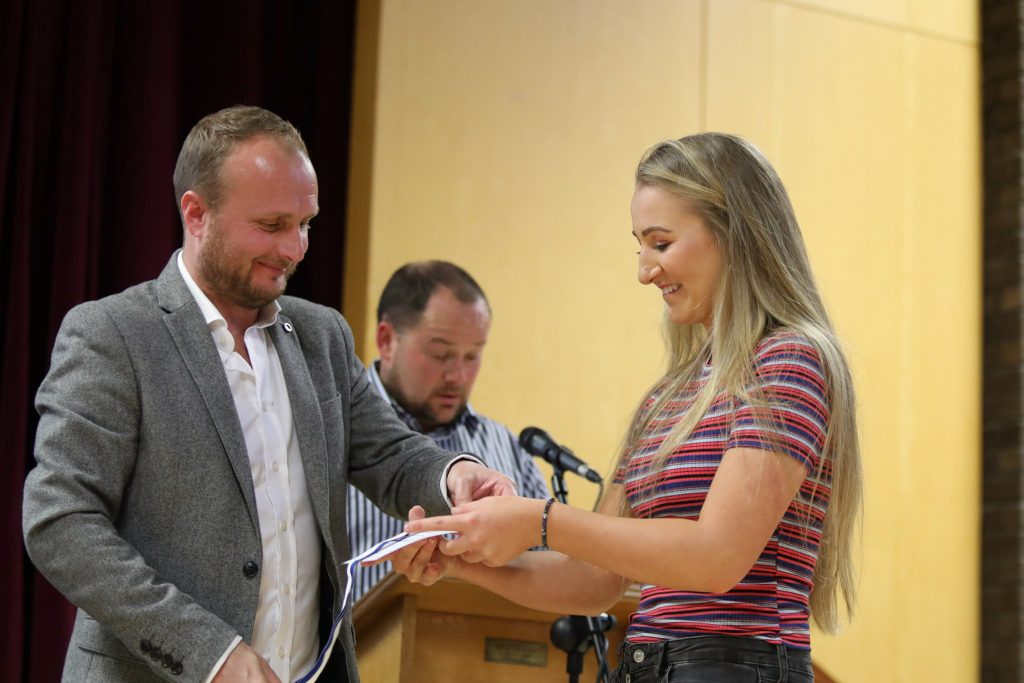 As is customary Colours were awarded in a wide range of sports and the final phase of the award ceremony saw Dawson and Michael collect the Team of the Year Award on behalf of the 2ndX1. The top individual awards of the evening were both collected by the same recipient, Nathan Doak, who was awarded the Brian Bloomfield Cup and the WR Hunter Cup for sporting excellence. Raymond Hunter was Head boy of Wallace in 1955 and had a remarkable schoolboy career winning representative honours in an astonishing variety of sports. As an adult he gained international honours representing Ireland in both rugby and cricket and is one of that exclusive tribe, the British Lions.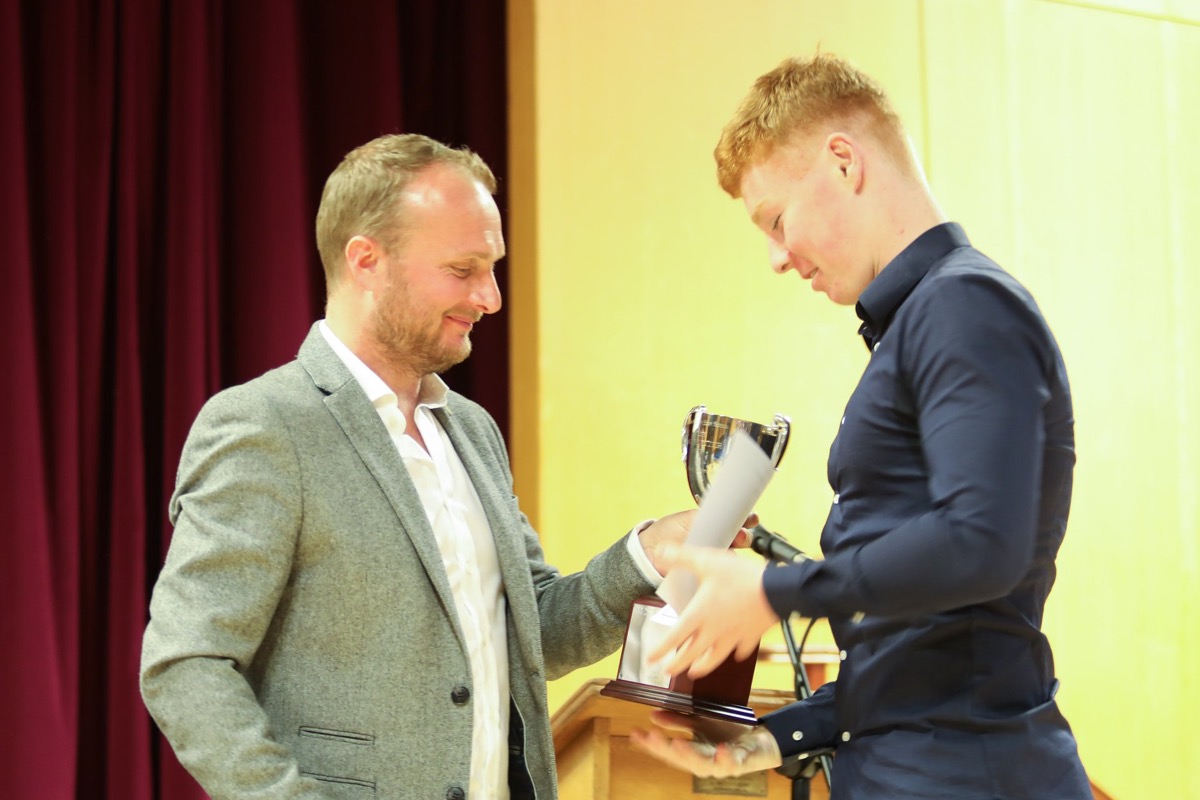 Formalities over, the audience enjoyed a tightly contested Kahoot quiz with Mr Glenn emerging victorious! A delicious finger buffet by Mount Charles brought the evening to a close as teams chatted together over supper.
Senior teacher Mr J Reid observed:
"The Sports Awards evening is always a great celebration of all that is good in sport at Wallace. As our new Sports Personality Award category shows we want to acknowledge participation, commitment and enthusiasm in addition to outstanding excellence. I'd like to thank our speaker for his thoughtful contribution to the evening, the PE staff for their support and the PTA for funding."
Last modified: May 9, 2018