Wallace's 1XV Captain of 2019/20 Reuben Crothers finally got to raise the historic Danske Bank Ulster Schools' Cup trophy over his head…but sadly six months after what should have been a showpiece final against Royal School Armagh and to a silent Kingspan stadium.
The historic competition has thrilled players and spectators alike since 1876 when, coincidentally, the winning school was The Royal School Armagh.
As a consequence of the Covid 19 pandemic a decision was taken to cancel the scheduled final and recently the two schools' captains were invited to the home of Ulster rugby to be individually presented with the trophy by Gary Leslie, President of Ulster Rugby. Both schools were declared winners and the sporting laurels are accordingly shared.
For fans of Wallace rugby, this was a very bitter-sweet moment as the squad of 2019/20 had high hopes of finally achieving the prize which had eluded so many Wallace teams. Having been defeated finalists in 1989 (MCB) 1994 (Regent House) 2003, 2007 and 2015 ( RBAI) the team was quietly confident that their winning streak would continue. Following our defeat of Bangor Grammar Schooll. Bangor's Principal (and our former pupil) Mrs Elizabeth Huddlestone made the draw for the next round and delivered us a home fixture. Having defeated our next round opponents Enniskillen Royal Grammar School we made our happy way to Kingspan where we defeated Methodist College in the semi-final.
The team was characterised by exemplary team spirit and did not lack star quality as three of its members Ben Carson, Reuben Crothers and Nathan Doak gained Ulster Academy contracts. Nathan was named Schoolboy Player of the Year in 2019/20 and Reuben has already been named in an Ulster A squad.
Wallace is immensely proud of the contribution made by some of our former pupils to the professional game; recently Ian Whitten signed a new contract at Exeter Chiefs, having made an astonishing number of appearances for the side. Jacob Stockdale continues to shine brightly in the firmament of Ulster and Irish rugby and has plenty of Wallace company at Kingspan to share reminiscences of Clonevin Park.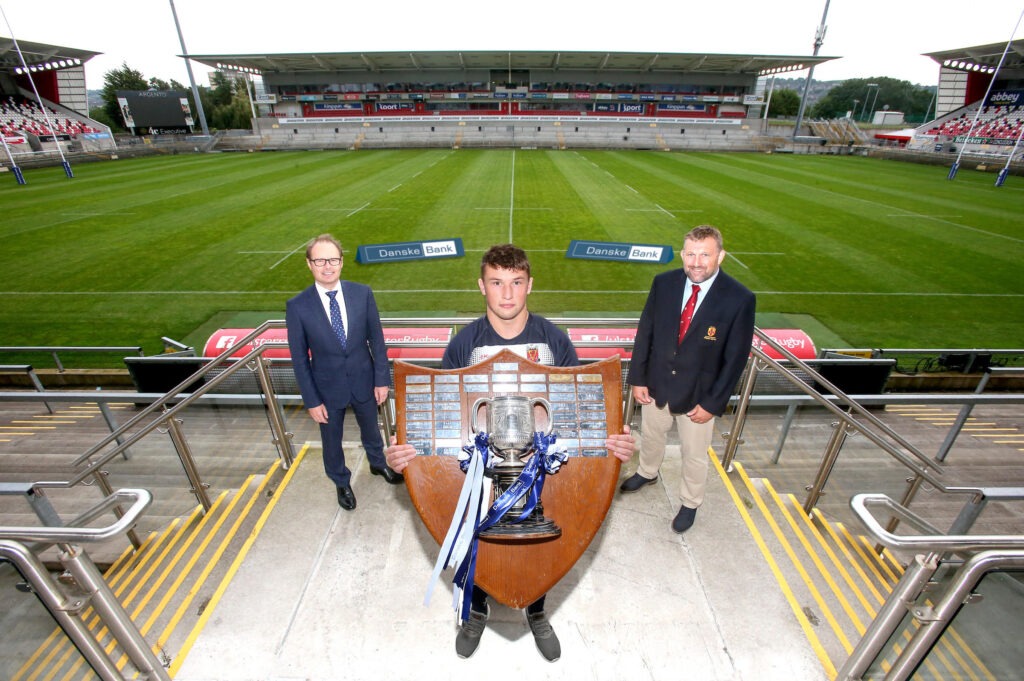 (Photographs courtesy of DicksonDigital)
Speaking of the school's success, Principal Mrs O'Hare said:
"The Schools' Cup is the "holy grail" of schoolboy rugby and the much anticipated final was yet another casualty of Covid 19. Our Year 14 leavers missed out on so many of the landmarks associated with finishing a school life and to be deprived of the opportunity to play the final was genuinely a devastating blow. I'd like to congratulate the team once again on their outstanding success and thank the entire coaching team for supporting the boys to this memorable point. I am delighted that for the first time the name of Wallace High School has appeared on the trophy and we look forward to seeing it appear for a second time in the future. We are also looking forward to some form of appropriately distanced celebration with the team who have yet to receive their School Cup medals."
A link to the article on the Ulster Rugby website is available here.
Last modified: October 2, 2020