Nine months after the devastating announcement by the Schools' Branch of Ulster Rugby that the hugely anticipated final between Wallace and Royal School Armagh was not to be played, a very special (and socially distanced) ceremony was held at Wallace to celebrate the achievement of the 1XV squad of 2019/2020. Captain Reuben Crothers had previously enjoyed the opportunity to hold the legendary cup aloft at a presentation organised by the Schools' Branch and long-term sponsors Danske Bank but the absence of team-mates and coaching staff made it a very solitary and rather surreal experience.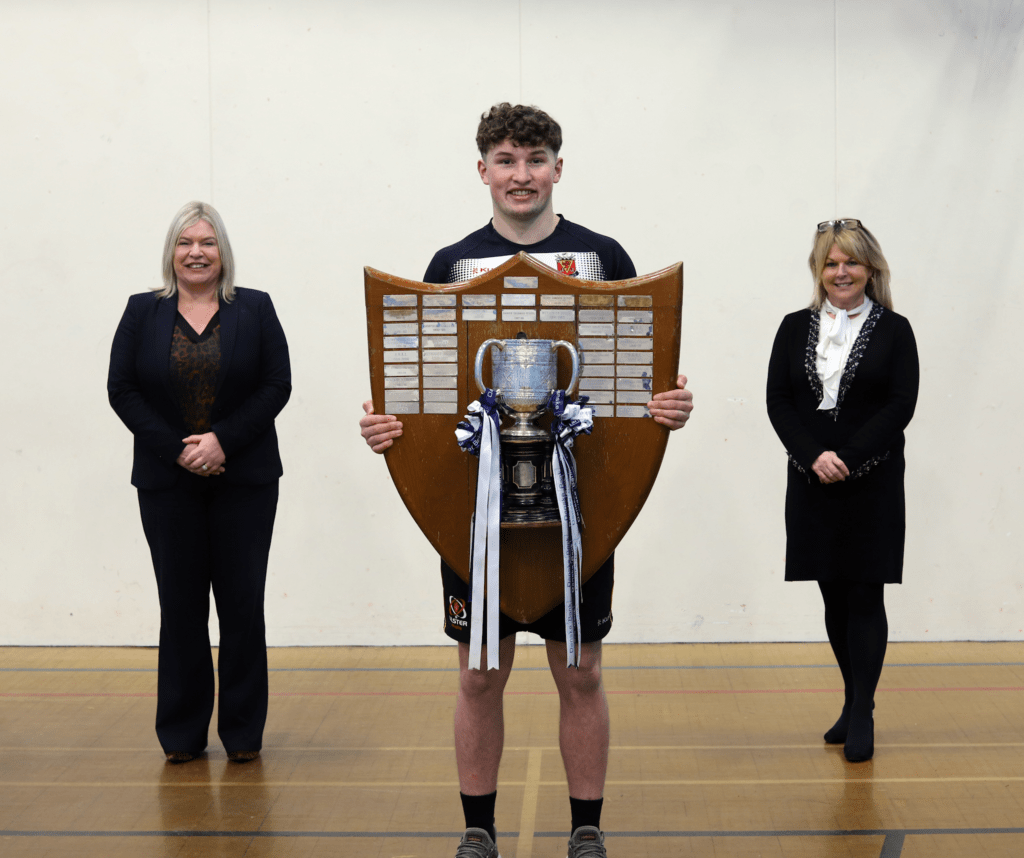 Head of PE, Mr Neil Hinds, had organised a ceremony for the team which saw them receive their medals, a team photograph and a poster featuring key moments of their triumphant road to Ravenhill ( now of course officially known as Kingspan but not in the minds of Schools' Cup devotees) for the projected showcase final. The squad listened to a series of short speeches and presentations outlining various aspects of their achievement; Wallace's Director of Rugby, former pupil Derek Suffern, highlighted some of the key values which had defined the squad noting in particular how few points had been scored against Wallace. Ben Best, who is a familiar and exceptionally popular figure in Wallace for his inspiring Tree of Knowledge presentations, has worked with the squad as a sports psychologist and surprised the boys with a witty poem . Mr Hinds highlighted the "unique legacy" this squad has gifted the school and thanked the Principal for her "unwavering support". In turn Wallace's Principal, Mrs Deborah O'Hare, reminisced about Mr Hinds (who is notoriously cautious in his pronouncements about possible success) being immensely excited when this team, as Year 8 students, defeated all comers. She commended the team for their "dedication" encouraging them to "remember the journey and the lessons learnt along the way" and thanked all the staff who had worked with the squad at each stage of their playing careers at Wallace.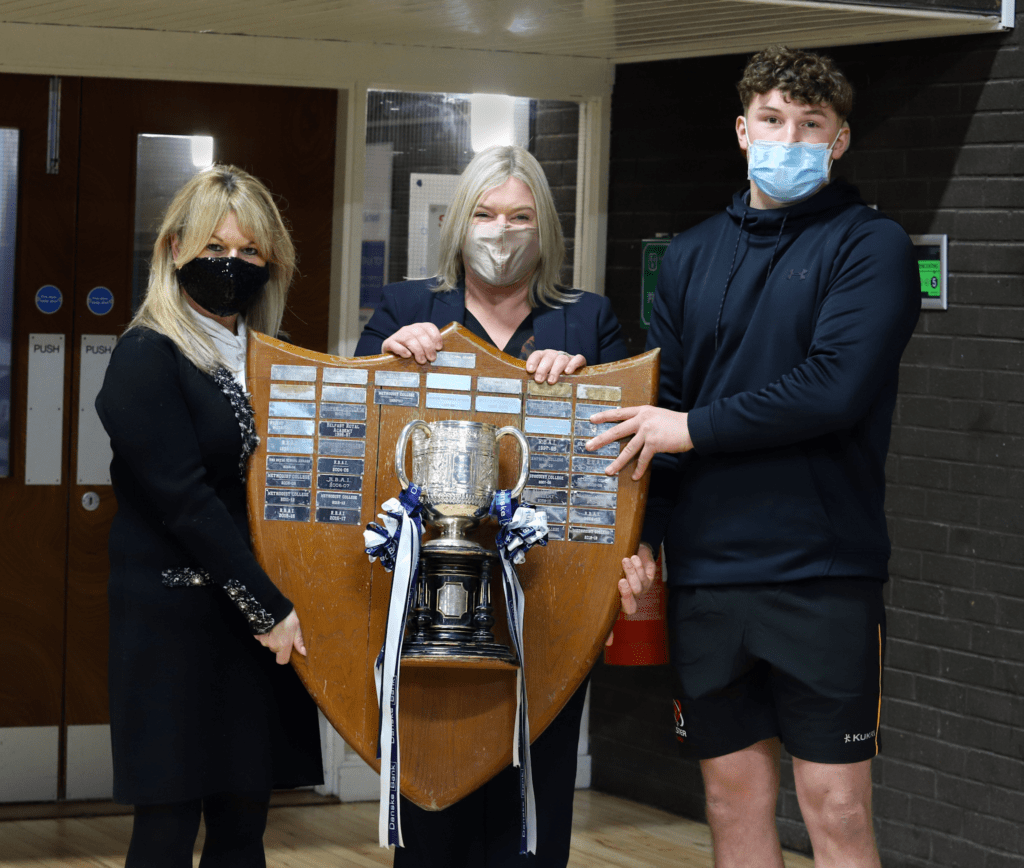 Reuben, one of three squad members to have an Ulster Academy contract, addressed his team-mates thanking them for their "determination and hard work" and urged them to harness and channel the insights they had gained over their years of playing together. As his final duty as Captain, Reuben presented the historic silverware to Mrs O'Hare and Mrs Sandra McCabe, Chair of the Board of Governors and two gifts to the school which commemorate the victorious Schools' Cup campaign.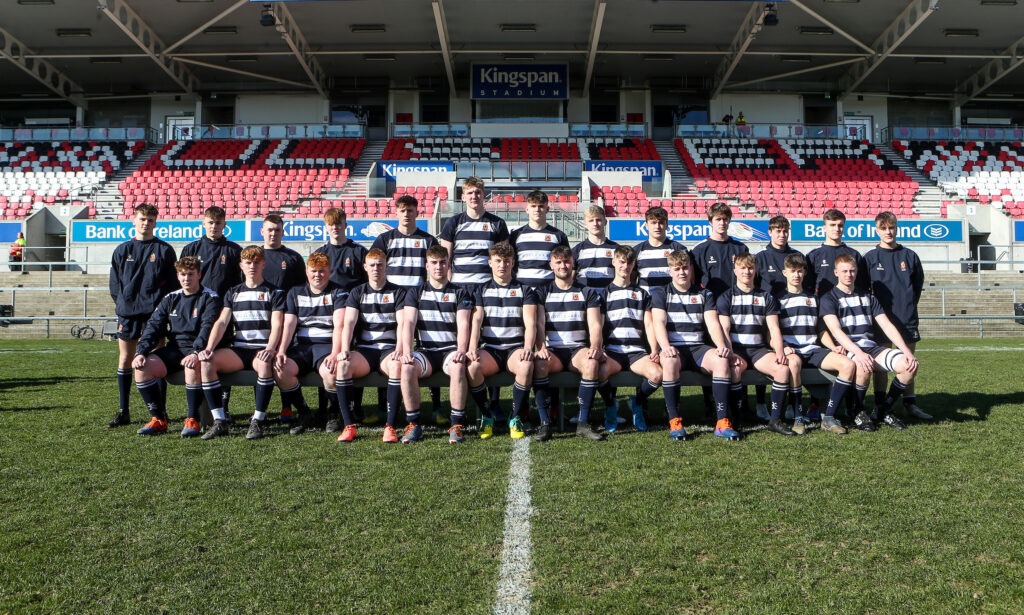 The afternoon concluded with greetings from famous faces all congratulating the squad, staff and the wider school community; Jack Nowell and Rob Baxter player and coach of European Cup and English Premiership Champions, Exeter Chiefs brought greetings from England, offered warm congratulations. Fittingly, a quartet of inspirational Wallace old boys (Chris Henry, Kyle McCall, Jacob Stockdale and Ian Whitten) brought their good wishes to the squad and individual memories of their own cup campaigns.
Speaking after the event Mrs O'Hare said:
"This has been a very special day for the squad, the coaching staff, the school, the wider Wallace family and for Lisburn. The Schools' Cup has a unique place in the hearts and minds of so many and I was struck by the emotion with which our former pupils spoke of their experiences as Wallace players. I want to thank all the staff involved for their commitment and dedication to rugby within Wallace as this success does not belong solely to the players. It has been many years in the making and I hope this year's success is only the first triumph for Wallace."
Last modified: April 26, 2021