If you are of a certain age your acquaintanceship with virtual reality might have begun with the BBC series, starring local architect Robert Jamison, Your Home Made Perfect, which showed people what their  homes could look like when transformed by architectural input. During Covid 19, the formula got re-worked to Your Garden Made Perfect ( sometimes by sums of money you'd expect to spend on a house) but the awesome technology remained the same.
Table of Contents
If you are somewhat younger you may have enjoyed using a virtual reality headset in a more light-hearted context, such as Star Trek: Bridge Crew or Wipeout Omega Collection. 
Regardless of context you need a VR headset which in terms of educational practice can definitely be seen as cutting edge. Thanks to the generosity of Lisburn and Castlereagh City Council who provided Wallace with an £8,000 grant for project based learning through the Local Investment Plan 2022/23, Wallace pupils developed a dynamic resource to support the local community and to celebrate the school's founder, Sir Richard Wallace.
Virtual Reality at Wallace High School
As is well known Sir Richard's generosity provided the then town of Lisburn with some of its key features: he gave the land for Wallace Park; his private home and Castle Gardens are part of historic Lisburn; he funded the Temperance Institute and the Union Bridge in addition to providing fountains and making many small bequests. Lady Wallace donated stained glass windows to Lisburn Cathedral in memory of her husband.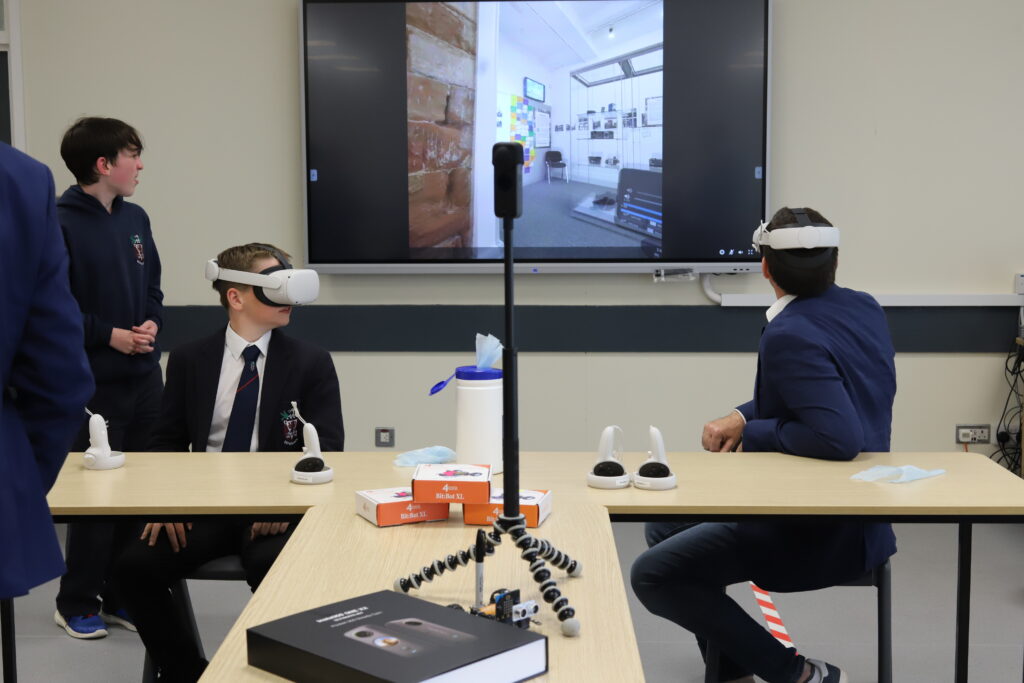 Due to the Covid-19 pandemic, the older generation struggled to visit the various exhibitions and venues so a team of pupils decided to take these treasures to them. The "Virtual Lisburn" project showcased the Irish Linen Centre, Lisburn Museum and Castle Gardens, the latter of course, were once Sir Richard's private property.
Aided and abetted by Vice- Principal David Cleland ( a man who truly loves a new IT twist) a team of Year 11 GCSE Digital Technology pupils equipped with 360 video technology visited the museum. The pupils systematically worked their way through the museum recording the artefacts and installations and began the process of stitching together a 360 Virtual Reality experience.
RAW VR Footage from the Museum Visit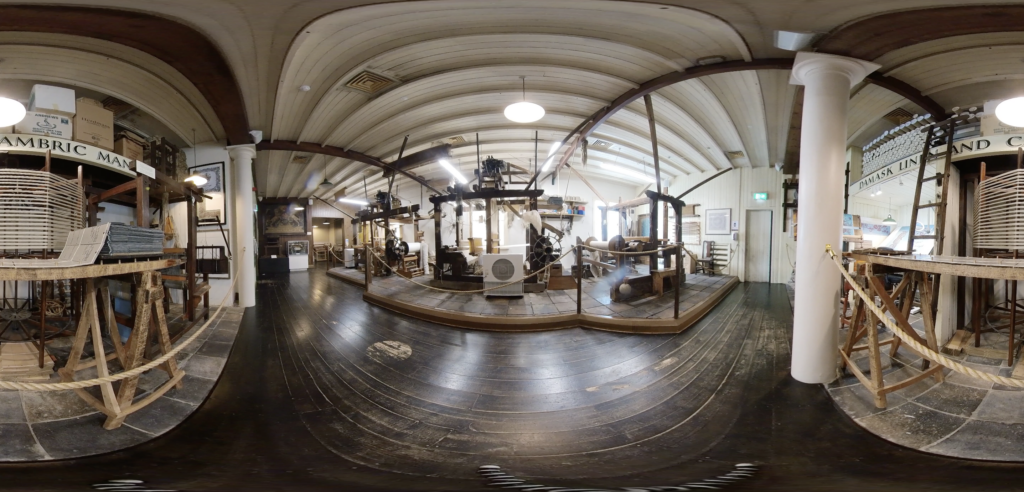 Once the virtual reality film was recorded it was then carefully edited and stitched together as a 360 degree video. Finally the team recorded a voice over in the school studio to complete the project thus providing genuinely interactive content.
Experience a 360 version of the VR Experience
Click on the video to look around, it's not quite the same as VR but it offers an aspect of the experience.
LCCC Chief Executive, David Burns and Head of Communities, Angela McCann were invited to a special showcase to highlight the extensive PBL ( Project Based Learning) work undertaken by pupils in Year 8-11 which included the 'Virtual Lisburn' Project.
Wallace Pupils Create their own Virtual Reality Experience
David Burns said:
"I was particularly impressed with the project which took us on a virtual tour of our very own Irish Linen Centre and Lisburn Museum and Castle Gardens. I commend the pupils and staff of Wallace High School for this wonderful work."
Although the " Virtual Lisburn" project had the most obvious practical application for a wider audience the visitors were also impressed by the range of activities undertaken by different year groups as Year 9s used VR to experience a European food market and then created their own market with food from their chosen region.
Speaking of the project Mr Cleland said:
" We were thrilled to have a successful bid for funding and we hope that our " Virtual Lisburn" project offered Lisburn and Castlereagh City Council some food for thought in how VR technology can be used. We believe that the VR technology enthused teenagers to interact with the history of their local community while simultaneously creating a resource of value to those who are perhaps restricted in their opportunities to visit places of interest.
We look forward to making excellent use of our headsets in a classroom context and if the enthusiasm of staff on a staff training day was anything to go by, we'll have no difficulties in engaging the pupils. Many thanks to the Year 11 students for their commitment."
Team Virtual Reality
The stars of the VR Team were Eoin Heyes, Gracie Millar, Ben Martin, Jack Cleland, William Gilmurry and Hugh Brady with Mr Cleland providing boundless enthusiasm and a creative eye.
Links
Wallace Ed Tech 50
Wallace Win Digital Schools Award

Last modified: October 6, 2023