On Saturday 25th March, The Wallace High School Medallion Team won the 2017 Ulster Schools' 7s competition at a sun soaked Campbell College! This was only the second time Wallace has won this competition outright, the first being back in 2012 when Irish U20 scrum half, Jonny Stewart, captained the team to success.
Wallace got into their stride quickly in the group stages with comprehensive victories, winning by thirty points over Bangor GS and RS Dungannon! Wallace produced some fast and accurate handling with Nathan Doak, Sam Hayes and Lewis Nelmes conducting affairs. The strong running and offloading skills of Jack Dillon, Joel Dundas, Ben Carson and Adam Oakes was an impressive feature of Wallace play along with the defensive organisation of Harry McMeekin, Jake Crothers, Andrew Dorman and Chris Quinn. Wallace finished the group stages brilliantly with victories over Ballymena Academy and Regent House.
Rotation of players was a key issue in the competition and this became particularly important with the loss of key players Andrew Dorman and Harry McMeekin due to injuries. The quarter final against RBAI proved to be a tight match, with a close half time score-line of 12-10 to Wallace. However, Wallace found another gear in the second half, with line breaks and good ball retention enabling the Lisburn School to seal an impressive win of 35-10!
Impressively, a semi-final victory of 24-0 over Medallion Shield winners RS Armagh, enabled Wallace to secure a place in the final against a strong Cambridge House side, who had disposed of Friends and Sullivan in the quarter and semi-finals respectively.
Wallace began the final strongly scoring immediately from the kick off. 'The boys in blue' completely dominated the game, scoring for fun to emerge 56-7 winners, and deserved victors of the overall tournament!
The Wallace medallion squad are an impressive team, and with the disappointment of an earlier than expected exit to The Shield, this proved to be a fabulous end to the season and the right response from our capable players! Indeed, the WHS players deserve considerable credit for their application in training for this competition and their consistent performances throughout the day.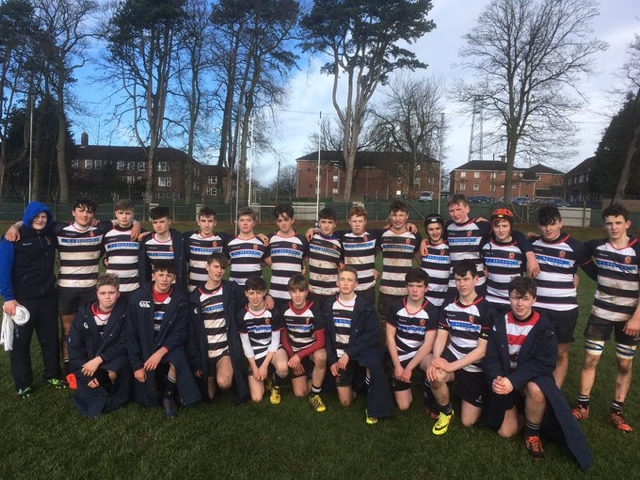 Rugby coach and Head of P.E. Neil Hinds commented, "I am delighted with the performances of our boys in this competition! Thanks must go to our ever loyal supporters and also to Campbell College for their excellent organisation of this tournament!"
Medallion Squad: Nathan Doak (Capt.), Ben Carson, Jack Dillon, Joel Dundas, Adam Oakes, Andrew Dorman, Chris Quinn, Lewis Nelmes, Harry McMeekin, Sam Hayes, Jake Crothers.
Last modified: April 7, 2017