2022 saw the return of our school-based Carol Service for the first time since December 2019. It was a sobering thought to consider that no Key Stage 3 student had attended such an event in Wallace.
Thanks to the hard work of the pupils and Miss Pascoe and Mr Falconer the junior pupils had an experience which formed a suitable conclusion to the term and an appropriate beginning to the Christmas holidays.
The service follows the format of a traditional service but is shortened; there are six lessons rather than nine and less congregational singing. The pupils readers were: Adam Houston (Year8), Annie Givan (Year 11), Lewis Carson (Deputy Head Boy) and Tanisha Dowie (Deputy Head Girl) and they all read with commendable clarity and expression.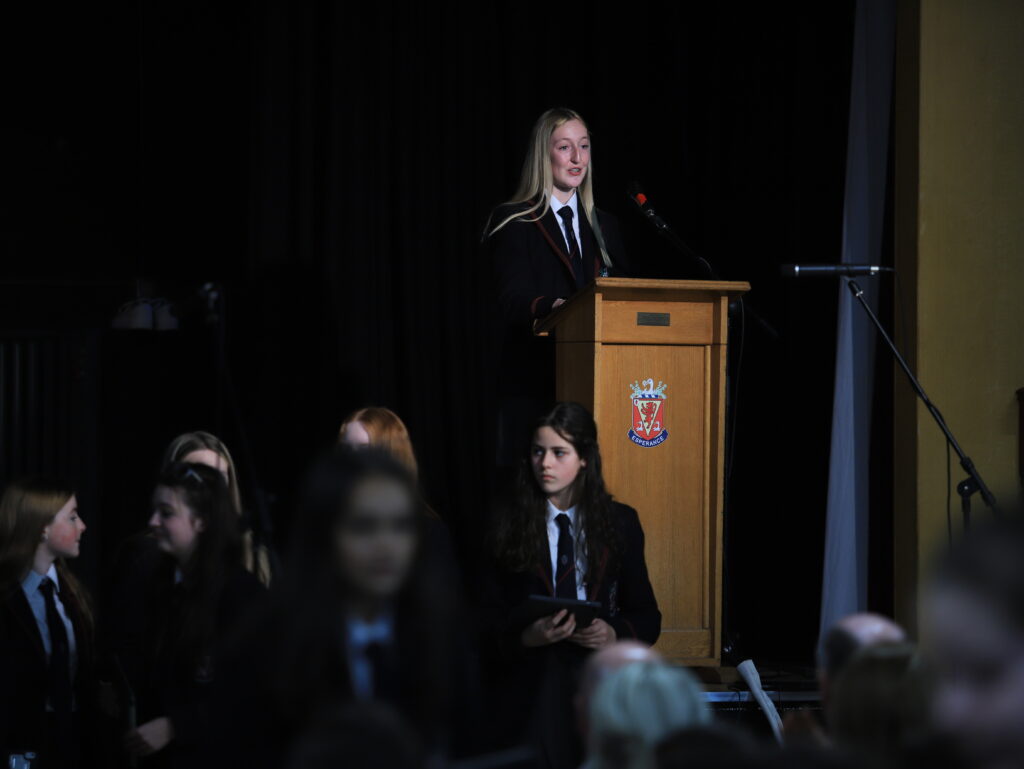 The musical contributions echoed those of our Carol Concert in Saint Patrick's in presenting our various choirs. The Junior Choir sang Angels' Carol by Rutter and showed that there is considerable talent coming forward and for three year 14 students there was a final opportunity to perform solo contributions. Alfie Neill was the soloist in Capella's rendition of O Little Town by Chillicott while Head Girl Samia El Dibany was the soloist for What Child is this? Samia certainly demonstrates musical versatility having performed as Sandy (Grease) in Songs from the Shows and in the band at Christmas Pie. The highlight of the day for many was Deputy Head Girl, Rachel Armstrong's performance of Mary, did you know? This contemporary piece has become a modern Christmas classic, recorded by many artists with the most successful version being by CeeLo Green. Despite this intimidating history Rachel delivered an interpretation which was assuredly her own and did full credit to the song's poignant lyrics which reflect upon the experiences of Mary, the mother of Christ.
We were delighted to welcome Captain Ben Ellis of the Salvation Army to receive our gift for the Christmas Appeal; he also offered us a reflection entitled A Christmas Thought inviting us to consider the meaning of the season. His visual aid (achieved through some adept origami) left one of our guests (Rebecca from the Cancer Fund for Children) wondering if he could teach her how to create a daisy shape!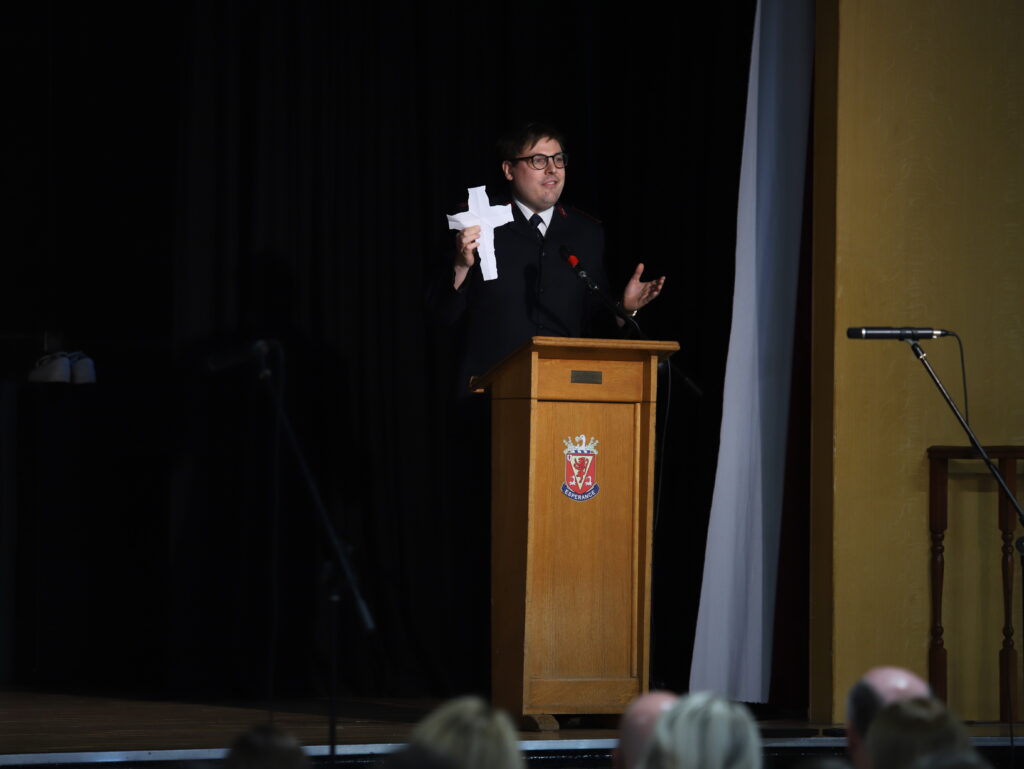 The final informal section of the morning included thoughts on the nature of charity by Conway House Captain, Michael Rocks and presentations to six charities, three of which were supported by the House Quiz fundraising. Mrs O'Hare offered her greetings and wishes for the season and the term concluded with a superbly energetic performance by the Jazz Band of Jingle Bells. We were delighted to receive some very warm emails after the event and are thrilled that our guests from the charities enjoyed their time of reflection with us.
"I was honoured to be asked to attend the wonderful service and to listen to some wonderful solos, choirs and musicians. Rachael's solo "Mary did you know" was simply amazing and I still have the tune in my head – I hadn't heard that song before which makes that fact all the more remarkable."
( Mr Ivan McMinn Chairman of NIPANC)
Last modified: January 4, 2023