A New Year can often be a challenging time to become motivated but not for two Year 14 A – Level students from Wallace. Within a fortnight of the turn of the year Julie Yeow and Kirsty Dawson heard the exciting news their applications for Oxbridge had been successful giving their upcoming mock examinations a whole new meaning.
Kirsty has been offered a place at King's College, Cambridge to study Natural Sciences whilst Julie holds an offer for Lincoln College, Oxford to study Engineering. Both girls have outstanding academic records and a wealth of interests outside the classroom, so an application to Oxbridge was encouraged by Wallace's Gifted and Talented Coordinator, Mr. McKnight.
Mr. McKnight commented that first and foremost he was delighted for the girls "Kirsty and Julie have put a great deal of work into their preparation to apply; extra reading materials, podcasts and of course mock interviews have all been important elements over the last year. This work has been worth it and it was great to hear the news that both girls had been offered a place."
Mr. McKnight also commented "the opportunity to visit Cambridge last year to attend the St. John's College Teacher Colloquium as well as Oxford University's teachers' conference in Belfast had been of huge importance – it gave me a much greater understanding of what goes into an application and what these two world-renowned universities are looking for in potential students"
Julie was appreciative of the support she had been given from school during the process "One of the most helpful things in support of my application was a Q&A session with past Wallace students who are currently studying at Oxbridge; not only did they give us a great insight into 'College Life', they also were able to put me in contact with people who were studying the subject I was interested in meaning I could find out more about the interview process and the content of the course."
Kirsty also commented on her offer "I am absolutely delighted. I've always had an interest in studying biological sciences and I cannot believe that I now have the opportunity of doing so in one of the most highly respected universities in the world.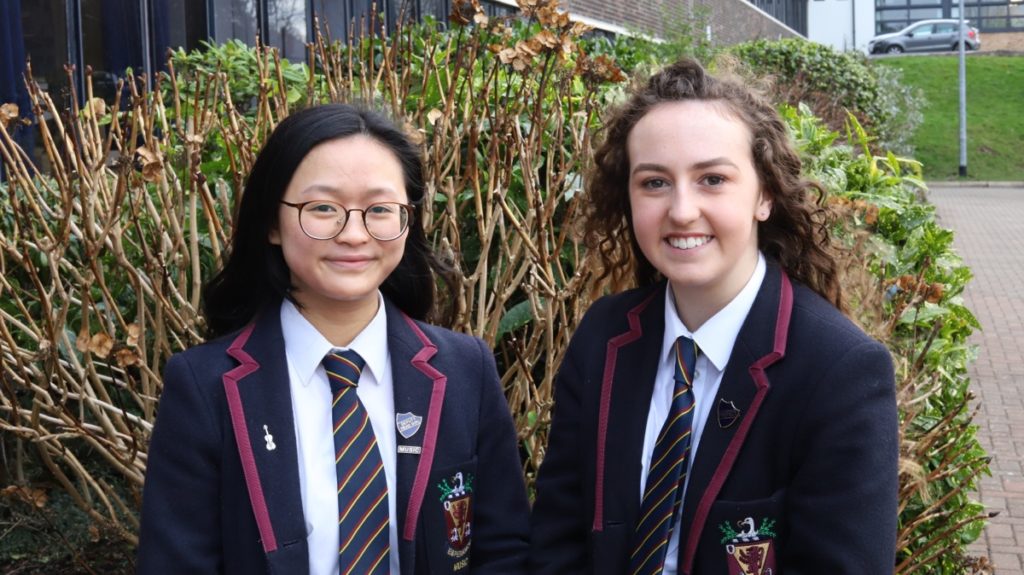 The support offered by staff in school has been invaluable in helping me with my personal statement, interview preparation and of course all the pointers to suitable extension material"
Wallace was also notified this week that Hannah Patterson, a student from last year's Y14, has been given an unconditional offer to study music at St. John's College Cambridge. This is testament to Hannah's amazing musical and academic abilities and everyone at Wallace would like to wish her well as she looks forward to commencing her studies in September 2019.
Support to students applying to Oxbridge Colleges is just one aspect of Gifted and Talented provision at Wallace. Further support is provided to those students in Y13 who are applying to courses from UNIQ, Cambridge University College summer schools, Sutton Trust, Villiers Park as well as summer courses at a wide range of other UK universities and companies.
September 2018 saw the launch of the WHS Scholars Online Course – a resource specifically targeted at our highest achieving pupils in KS3. So far this resource has been well-received with students having the ability to access hand-picked extension resources from a range of sources.
Parents can have every confidence that Wallace's most enthusiastic and able students are well catered for in a range of subjects as departments run their own extension activities and Gifted and Talented programmes.
Last modified: January 31, 2019