Year 13 students Joel Coupe, Maria John and Max Kamalarajah have enjoyed an incredible year competing in the BPW Public Speaking Championship. Following success in regional heats, they fought off stiff competition to be crowned Northern Ireland Champions, with Joel named Best Speaker and Max Best Expresser of Thanks.
Head of English, Gillian Weir explained,
"The Business and Professional Women's competition sees pupils matched with opponents from other schools, encouraging them to develop their communication, interpersonal and decision making skills. It has been a pleasure to work with such talented students and to witness them engage with other young people in such a mature fashion. I have no doubt that these three have exciting futures ahead and I look forward to hearing of their successes."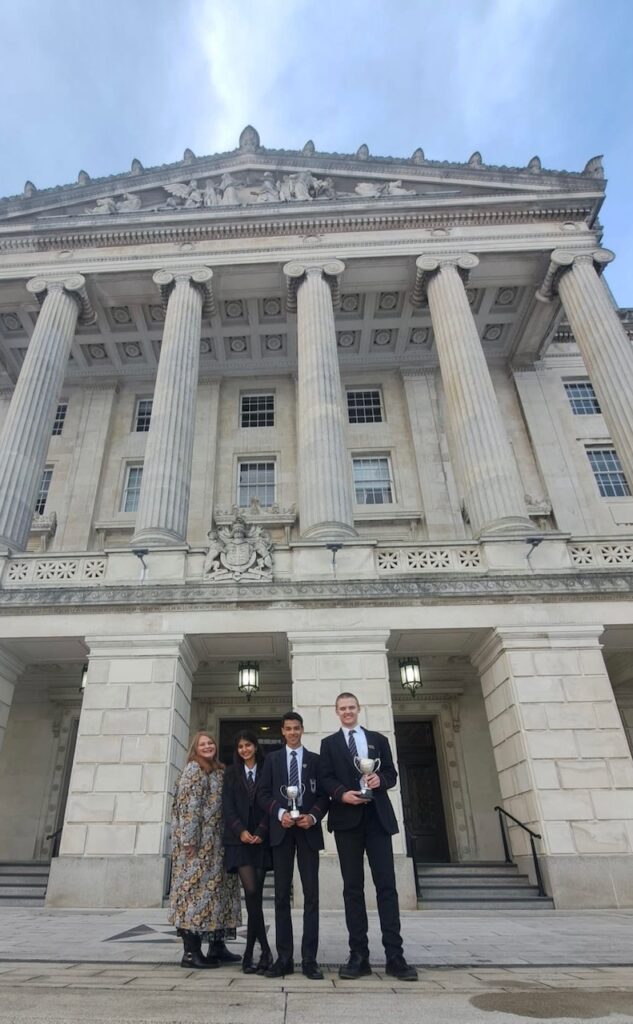 Max and Joel were also recognised at the UK Finals, braving the snowy conditions last Friday to meet in the Senate Chamber in Parliament Buildings. Max built on his NI title, bringing home the UK trophy, with judges praising his wit and warmth. Joel was awarded the Elizabeth Peacock trophy, with special mention given to his confidence, sensitivity and maturity in handling complex material.
Gillian Weir concluded,
"Thanks must go to the families for their unwavering support and to staff for continuing to promote oracy in a wide range of ways, from Debating to Mock Bar activities."
Last modified: March 16, 2023