Day one:
The Munich adventure began early as we met at 2.45am but that did not diminish our excitement as we travelled to Munich airport. We jumped straight onto the S-Bahn which took us into the Stadtmitte and our lodgings for the next few days; 'The Meininger'. We got settled into our rooms as quickly as possible before heading out to the Tollwood Eco-Festival. The many stalls and eco-tents were full of Christmas crafts and of course we were able to have our first experience of German food. One of the most interesting exhibits was a Christmas tree made of bikes which lit up when you cycled around the base of the tree – it was incredible to see! Our evening meal at Pognor's restaurant was warm and and cosy, with most people taking the opportunity to try the very typical German dish Schnitzel and it was truly delicious! The restaurant had a single lane bowling alley (traditional bowling in Germany); it was small but great fun and brought out everyone's competitive side! As you can imagine, we all slept very well that first night after such an early start.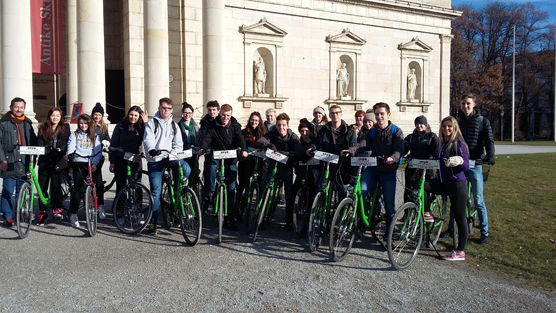 Day two:
Our day began with a bike tour of Munich, with the fascinating sights superbly combined with learning the history of this city. We were amazed how much German we were able to understand and it made our classroom experience seem much more relevant as we listened to a native speaker telling us about his beloved city. Munich is definitely a very beautiful place and many have vowed to return. After our bike tour we had lunch at the famous Viktualienmarkt and then boarded the train to the Allianz arena where we were given a tour of the extraordinary arena by our guide Johannes, who told us lots about the stadium (the Allianz arena is the football stadium of Bayern Munich.) We even had the opportunity to take part in a German chanting competition against another tour group, which was a lot of fun. The evening visit to the Christkindlmarkt was an incredible experience, the lights, atmosphere and the stalls created a totally unforgettable Christmas wonderland.
Day three:
On Saturday morning we made the sobering trip to Dachau Concentration Camp. Opened in 1933, the Camp's primary purpose was forced labour, and eventually, the imprisonment of Jews, German and Austrian criminals, and foreign nationals. The Camp was liberated by U.S. forces on 29 April 1945. Learning about the atrocities that took place on the ground right beneath our feet was really upsetting to say the least, reducing many students to tears. Visiting the Camp was a solemn experience for us all.
A short time after, our spirits were lifted by visiting the Munich markets one more time! The picturesque markets offered all kinds of Christmas merchandise and gifts, especially traditional items such as figurines, wood carvings, marionettes, candles and Lebkuchen. The ambiance of the market was further enhanced by aromas of mulled wine, hot chestnuts, bratwurst and other tasty snacks.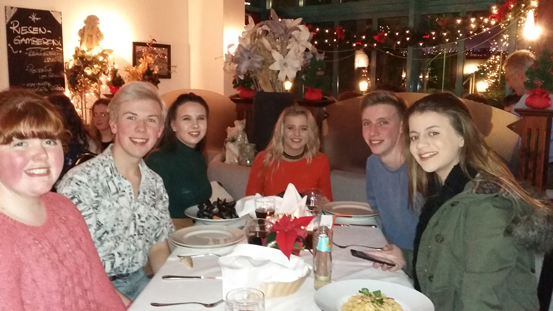 After a couple of therapeutic shopping hours, students were given the opportunity to choose their next activity. A number of pupils led by Frau Logan visited the 'Deutsches Museum' which was a fantastic museum filled with masterpieces in science and technology. Another group of pupils led by Frau Ferguson had the chance to visit the enchanting Christmas Village in the heart of Munich. Just before the evening meal the group met up outside the outdoor winter ice rink. Filled with Christmas music, joyful Germans and plenty of falls the magical outdoor ice rink was full of atmosphere and was definitely a highlight for a lot of students.
For our final evening meal, we found ourselves in an amazing little Italian restaurant not far from our hotel which continued to put our German to the test. The menu made no allusion to English with students being encouraged to order their choices in German! The day came to a close with Year 13 and 14 students consolidating their German knowledge in conversation with Frau Logan while the Year 12 students went back with Frau Ferguson to pack for our final day and trip home.
Overall the trip was a highly enriching experience. Year 12 pupil Susanne Hunter commented, "I really improved my confidence in speaking German and picked up many new phrases."
The students on the trip would like to give a huge thanks to Frau Logan and Frau Ferguson for organising such a beneficial, enriching and successful trip.
Last modified: March 9, 2017