Our recent Children in Need fundraising activities have raised almost £800 for the annual BBC Children in Need extravaganza. A packed Assembly Hall watched an excellent film by Year 14 MIA student Stephanie Scanlan which featured 10 intrepid Wallace teachers and pupils bouncing it out in the Great Space-hopper Challenge. Actually sourcing the space-hoppers became a game ( or perhaps more precisely a quest) with dedicated Year 14 committee member Ryan Simpson having to travel all the way to Belfast to acquire two! Was his journey worthwhile? The enthusiastic crowd seemed to think so.
Heats had been filmed in advance so pupils could enjoy the spectacle of departmental rivalries and gender challenges. The line up was: Mr Glenn V Dr Halferty, Miss Topley V Mr Simpson, Miss Stevenson V Miss Pascoe, Miss Thompson V Mrs Richardson and Head Girl Abi Wallace V Head Boy Patrick Hunter.
In the pre- competition line up they looked as mean and moody as participants in The Hunger Games (Abi excepted! ) and the heats lived up to the hype with dirty dealings, dodgy dives and plain GBH from Mrs Richardson who pushed Miss Thompson off her space-hopper. Unsportsmanlike behaviour was not to be tolerated and Mrs Richardson found herself in the losers' camp in company with Miss Topley, Miss Stevenson, Mr Glenn and Patrick.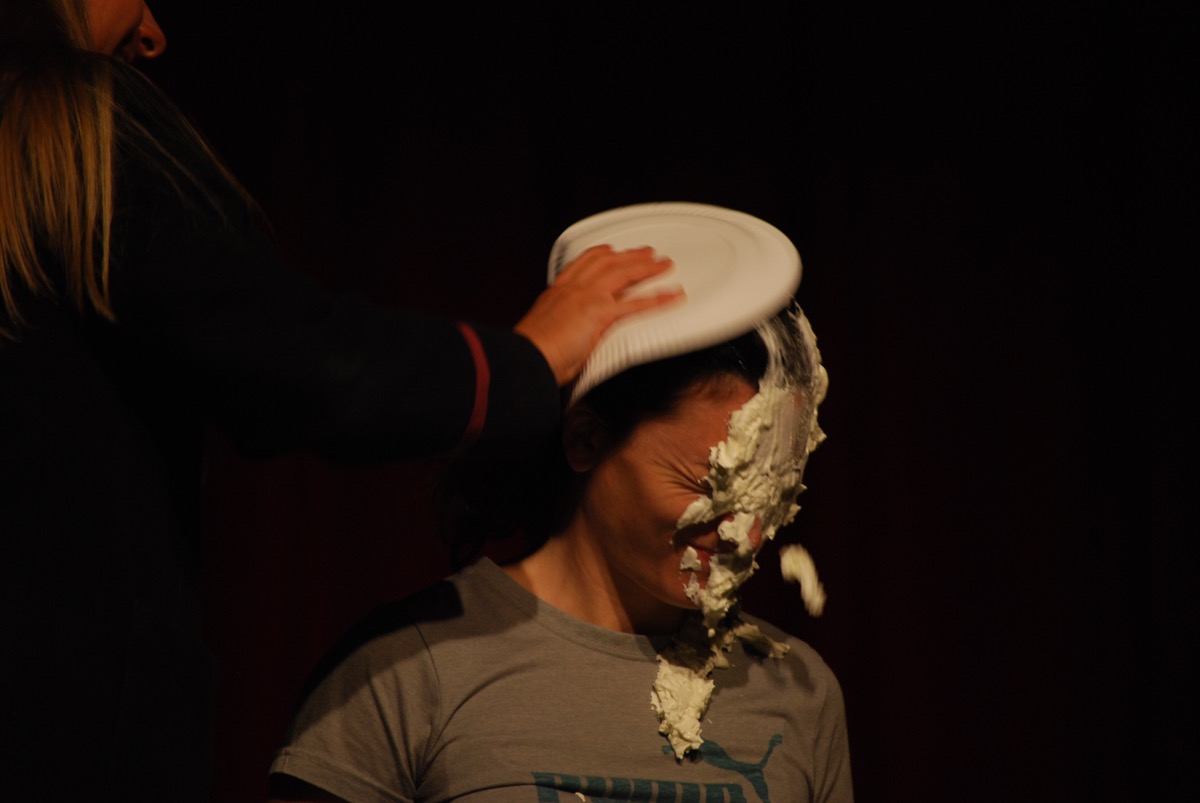 From the pupils' perspective, the best was yet to be as the raffle was drawn to "Pie the losers". Astonishingly, Miss Topley's nemesis from 2016 Isaac McIlwrath yet again won the right to assault her with whipped cream; the ever competitive Miss Stevenson seemed to think she could return the cream in a student's direction. Miss Stevenson's mortification was equalled only by Miss Pascoe's jubilant victory bop and there is no truth in the rumour that Miss Stevenson has been to Belfast to buy her own space-hopper to train for next year's event.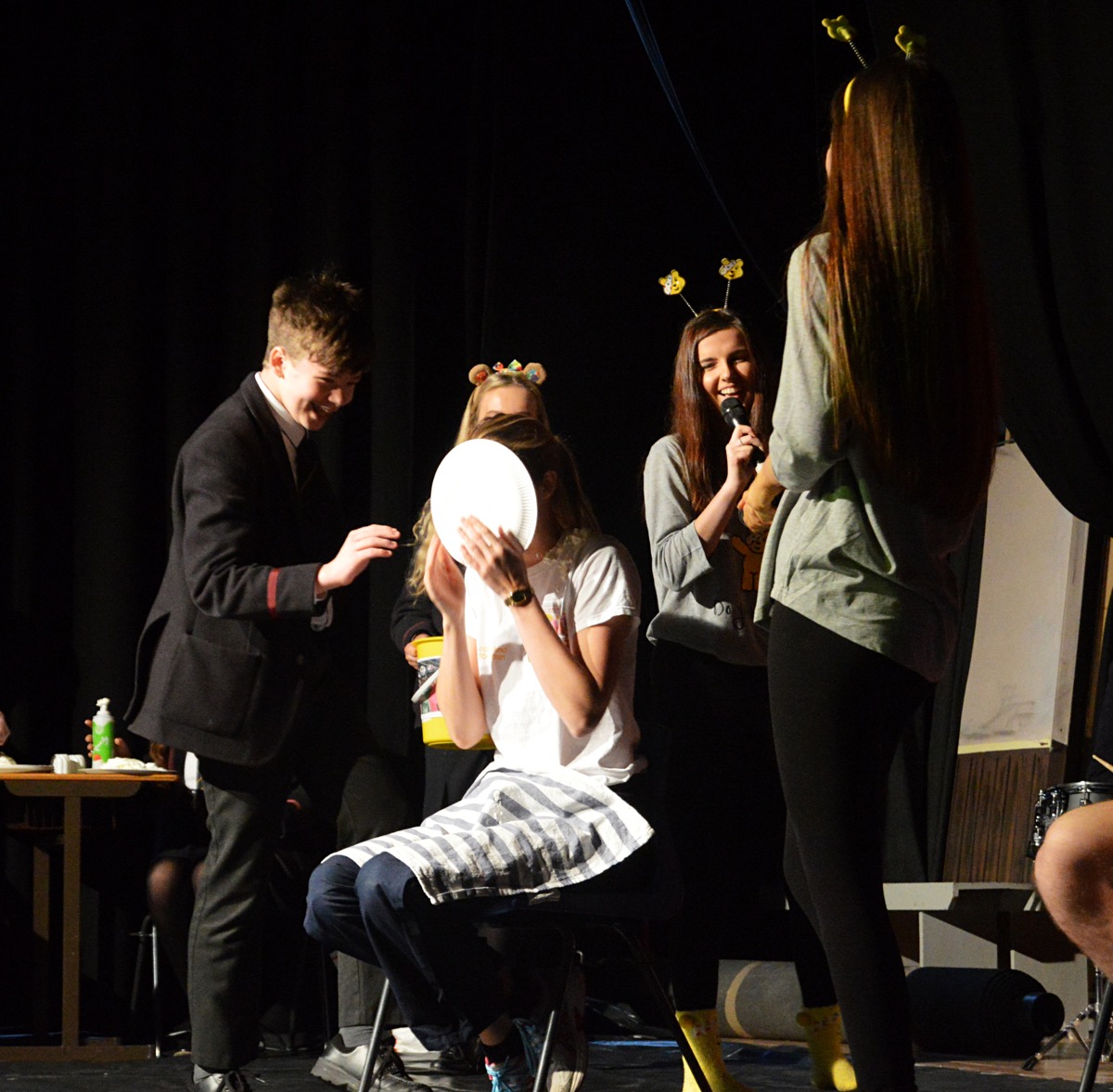 The event was excellently compered by Megan O' Doherty and Ellie Thompson (resplendent in Pudsey merchandise) assisted by Sarah Patterson on stage but the success of the event was due to the commitment of the entire Year 14 Charity Committee.
Some very unglamorous jobs such as creating posters and tickets, covering the stage with plastic and cleaning up afterwards were completed with admirable efficiency and good humour by the team members who were also assisted by some Year 13 students. Thanks also to the staff members who guarded the doors making sure everyone donated and to the range of students and staff who took some great photographs of the event.
Following the tightly contested event the 3 hockey players claimed that "hockey players don't have the hips for this" so when we run our own "Strictly" we'll know who to exclude from our celebrity line up! More seriously, there will be some very exciting charity events before the end of term so keep an eye to the school Facebook and Twitter. Stephanie's great production is below.
Wallace High School Children in Need 2017 from Wallace High on Vimeo.
Last modified: May 16, 2019