GHFH? In case you are wondering…good head for heights!
A good head and steady nerves were both needed when a team of Wallace students recently abseiled Belfast Castle. A gloriously sunny day showed the surrounding landscape to great advantage as Belfast Lough, Cavehill, Divis, the shipyard cranes and a multitude of other landmarks can be appreciated from the vantage point of the castle's tower.
The Year 13 and 14 students were delighted to find a familiar friendly face at on the roof (accessed incidentally by a very tight squeeze through a trapdoor) as Rebecca Murray (2018 leaver) was part of the team responsible for the event. Rebecca deferred entry to QUB as she had gained an exciting opportunity for a gap year. Selected for an Outdoor Leadership qualification run by the Education authority at Greenhill YMCA in Newcastle, Rebecca is gaining a wide range of Youth Work and Outdoor Pursuits qualifications and is enjoying the experience of working as part of the abseil team for Bryson Lagansports. The great outdoors will give way to the great indoors in October 2019 when Rebecca will return quite literally to her books as she will be reading English at university. Should a career in teaching ever beckon she has gained some invaluable capital this year.
Belfast Castle Abseil from Wallace High on Vimeo.
The undaunted Wallace team members were sixth formers Rebekah Beatty, Eve McMullan, Rachel Williamson and Owen McClure and they all survived to tell the tale of their experiences and pose for the obligatory photographs. One team member had even borrowed some school equipment to record her own descent; there is no truth in the rumour that we struggled to remove the camera from the glamorous hard hat!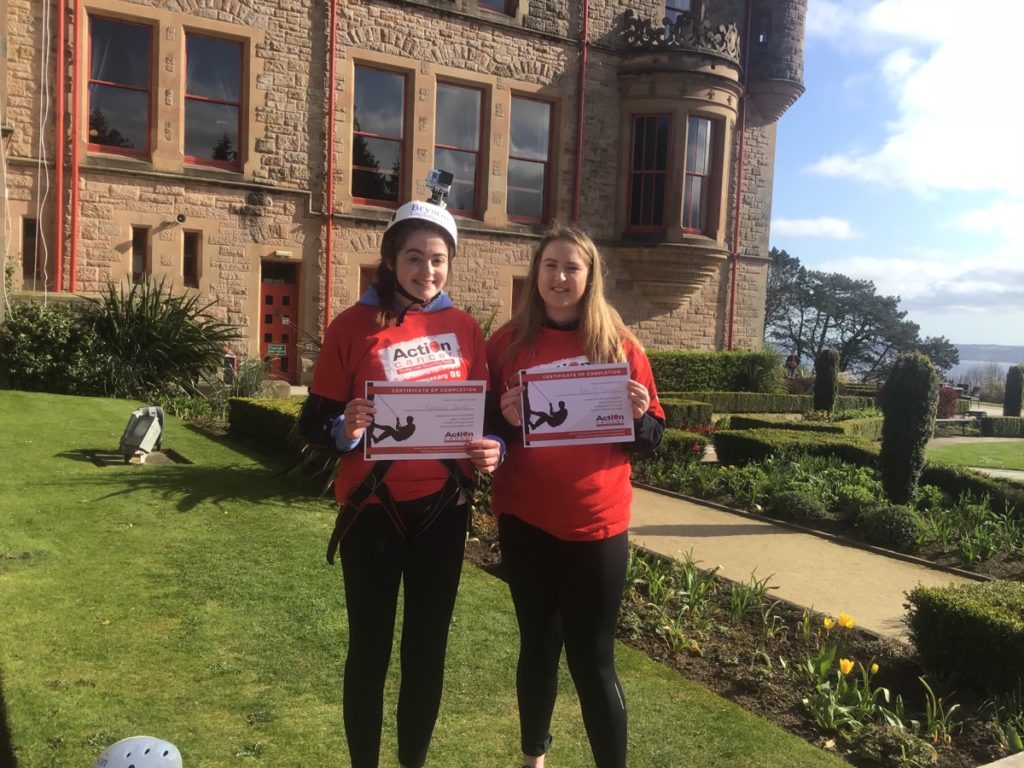 Speaking afterwards Rebekah said:
"Abseiling Belfast Castle in aid of Action Cancer did require a lot of bravery to conquer, although it could never be compared to the amount of bravery a patient with cancer needs to have. I can only encourage as many people as I can to step out of their comfort zone and make a difference."
Contributions to the Wallace team can be made via this link
Last modified: April 12, 2019