Staggering as it seems, the Year 8 pupils who enjoyed meeting each other last week will be our June 2029 leavers! The soon to be Year 8s were welcomed at the front doors by senior staff and members of the current year 8 who were eager to share their experiences of Wallace life.
After an assembly led by Head of Year Mrs Gillian Carson, each class set enjoyed a "Getting to Know You" activity with their class tutors. Each class set usually has thirty students with the pupils having a significant number of subject classes in this group so learning faces and names in a fun context is a bonus. House activities, led by Miss Frey and Mr Simpson followed and were much enjoyed and the afternoon concluded with each set participating in two of the following: Long Ball, Famous Faces, Guess the Chocolate (popular!!) and Human Connect 4.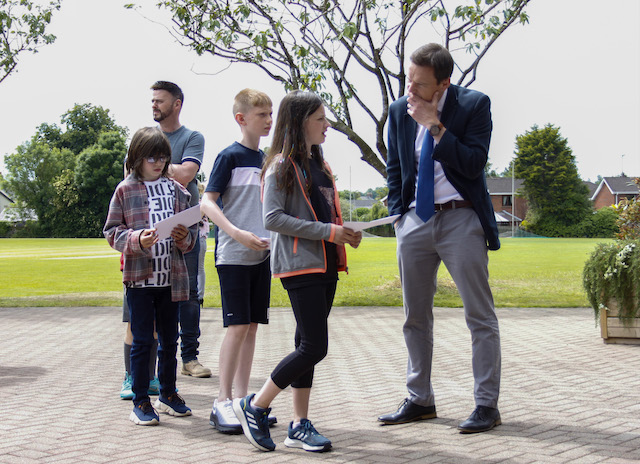 Each pupil received a copy of the Year 8 booklet which provides a pupil-friendly guide to Wallace life as it gives key information and answers those FAQs. As the year closes we can celebrate that 2021-22 has been "lockdown free" and that the current Year 8 pupils were able to enjoy many extra-curricular activities and events. Hopefully 2022-23 will see a full return to many well-loved events…we did manage to have two bake sales this term so we eagerly anticipate enjoying pleasures we have almost forgotten.
We wish all our soon to be Wallace pupils a very happy end to their primary school experiences, a great summer holiday and look forward to seeing them again in August.
Last modified: June 21, 2022