This academic year at Wallace we have been working on the development and provision of Enterprise Education for all students.
Enterprise Education involves the development of transversal skills – problem-solving, generating ideas, planning projects, critical thinking, teamwork, decision-making, and much more!
We want our students to grow personally and professionally, acquiring a 'can do' attitude and entrepreneurial mindset, providing them the ability to instill behaviours, attitudes, and competencies to generate ideas and become commercially aware in an ever-changing environment.
One area of development has been the implementation of external provision through Young Enterprise Northern Ireland.  We commenced with Year 8 in September, who developed skills and positive attitudes as they made the leap from primary to post-primary school.
Enterprise Education
In October, Year 10 learned about career choices, personal skills, recruitment, and the cost of living to help prepare for successful futures.  In February, Year 12 developed money management skills, with introductions to credit and debt savings, budgeting, and more.
Year 11 undertook a series of enterprise education challenges, taking on the role of small business owners with a business volunteer, and finally, Year 9 was taken on an incredible journey, experiencing what it is like to start a business and develop their enterprise and entrepreneurship capabilities while enhancing employability skills! We were delighted to have two former Wallace students, Rory and Samara, at the Year 9 event as they shared both memories and inspirational content with the students.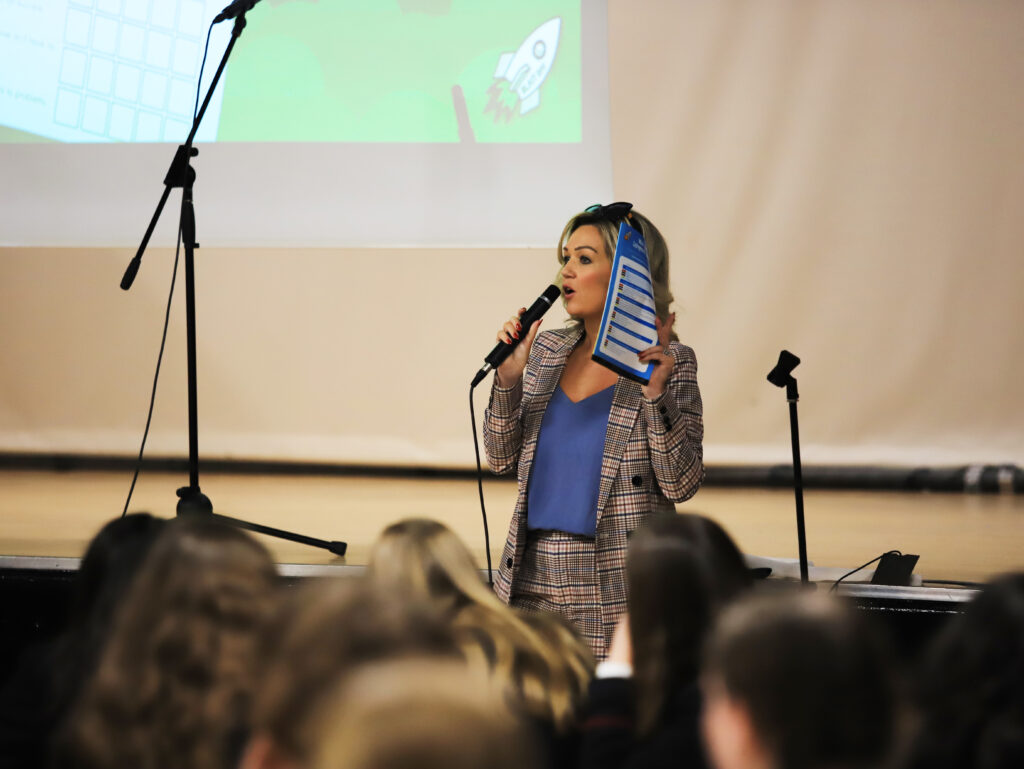 In the background of the events that have been taking place in school, we have had two Y13 groups take part in the YENI Company Programme, supported by Mr. Beaton.
Young Enterprise
The Company Programme is Young Enterprise NI's flagship entrepreneurship programme with over 1,000 students participating between the ages of 15 to 19 years. Company Programme gives students first-hand experience of setting up and running their own real business.
From devising a product concept, development of the actual product, creating a business plan, raising capital, marketing, and management of all major business functions, the Company Programme is a comprehensive all-round business experience.
Government and Universities increasingly wish to create commercially aware, highly skilled, self-aware, and self-confident graduates who will add value to society through the development and delivery of social and commercial enterprise – either through their own start-up or by adding intrapreneurial value to existing organisations.
We are delighted with the positive feedback from 2022-2023 and look forward to revisiting the Year 8 experience with our "newbies" in September. Who knows what budding entrepreneur is in their ranks?
Links
Young Enterprise
Last modified: October 6, 2023