Owen McClure, past pupil of Wallace and sound trainee, kindly gave up his time to visit students in the WHS MIA department. Owen has been extremely busy since leaving Wallace three years ago when his A2 year was sadly cut short by Covid-19. Determined not to allow the pandemic to interfere with his dreams of working in the film industry Owen deferred attending the University of Leeds to study film to pursue work experience as the prospect of online education seemed inferior to genuine experience working on set.
Owen was offered work experience through contacts he made whilst participating in the Nerve Centre BFI Film Academy during his AS year at Wallace; subsequently he has been fortunate to have been rarely out of work. Currently he is in London for reshoots of 'Secret Invasion', a Disney series.
Since leaving Wallace, Owen has built up an impressive CV, working on many films and TV series. He initially worked for NI Extras, several Cinemagic films including 'The Carer', 'Rian' and 'A Stone's Throw', and film projects for local mental health charity, 'Pure Mental'. Owen has also worked on several block-buster films and TV series including the Netflix fantasy film, ' The School for Good and Evil', Disney's 'Secret Invasion' and 'The Marvels', the Apple series 'Disclaimer' and Disney's 'History of a Pleasure Seeker.' He has worked with an array of A-listers, including Samuel L Jackson (refused to be miked), Cate Blanchett, Olivia Colman, Kevin Kline and Emilia Clarke. The MIA students were delighted to hear his stories of working in Pinewood Studios in London where, in a world suggestive of Fleming's 007, top secret film projects are known only by codenames.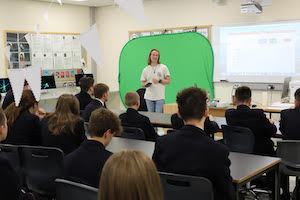 Owen explained his responsibilities as a Sound Trainee, what he'd learned from his experiences, his ambitions to become a Sound Assistant and eventually a Sound Mixer. He also shared his insights and knowledge of other jobs in the industry. His audience came alive when Owen passed around some props, namely fake glass and bullets from the set of 'Secret Invasion.'
Head of Department Mrs Katherine Lucas said:
"Owen was a model student at Wallace epitomising our CORE values of commitment, opportunity, respect and excellence. He has always been incredibly humble and good natured but his steely determination, unrivalled work ethic and immense powers of self-motivation, have equipped him with the necessary qualities to pursue his dreams, seize opportunities and succeed in the most competitive of industries. I cannot thank him enough for his inspiring presentation and look forward to following his career."
Last modified: September 15, 2022