It's probably fair to assume that the average Year 10 student doesn't know a great deal about cargo ships and sustainability but thanks to participating in Innovation 2021, we have a team of experts!
We are delighted to announce that a team of Year 10 pupils achieved the highly prestigious "Runner Up" position in this year's Innovation 2121 competition. The initiative competition is sponsored by the Department of Education and Young Enterprise NI and it challenged the students to consider how they might shape Northern Ireland's next century.
Our team, Eco-Freight, starred four Year 10 pupils – Sarah Brown, Lauren Blake, Charlotte Dougherty, and Ben Atkinson; they shrewdly concluded that they needed to discover what some of the biggest pollutants actually are and found out some unexpected facts! Somewhat to their amazement the team discovered that one of the biggest pollutants is something very familiar and necessary to our economy-the cargo ship.
The team's research revealed that according to a study mentioned in inews.co.uk, "just one of these container ships, the length of around six football pitches, can produce the same amount of pollution as 50 million cars."
Suitably stunned, the team wanted to offer a solution to this environmental floating disaster and created a design offering a sustainable way to transport cargo; their model included retractable solar panels housed within the centre of the ship offering renewable energy thus making the transportation of goods and services more environmentally friendly on a global scale.
The team members are delighted with their success and are looking forward to seeing and hearing how their prize of £3,000 will be used within school. The team will hopefully get to enjoy an "in person" award ceremony at a later date when Covid-19 infections are at a lower rate and are also looking forward to a trip to the Ulster Folk and Transport Museum at Cultra. Evaluating what they felt they had gained from the experience the team members all identified "the importance of team work" as central and also noted the importance of utilising the strengths of each member. Describing themselves as "arty" Charlotte and Sarah completed much of the artwork whilst Lauren focused on text and Ben demonstrated his film editing skills as the team had to produce a design for their project, a logo and a short video. The girls concluded that the transport industry could benefit from greater female involvement so perhaps this initial exploration will generate a career path later in life.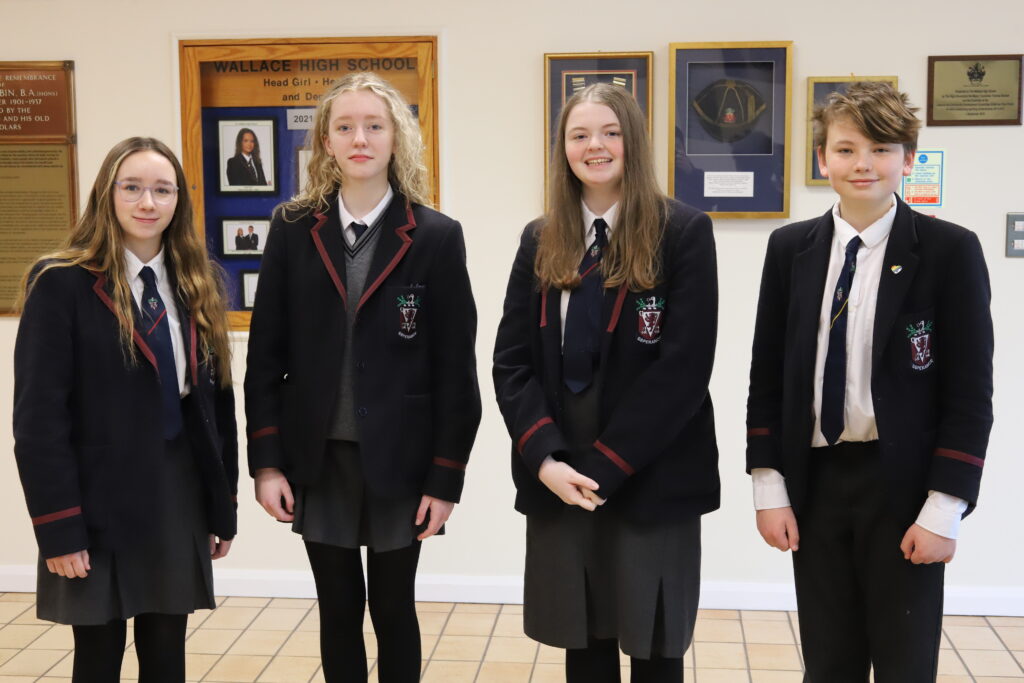 This was an outstanding achievement for those involved in the competition and the team members are delighted they responded to this particular school email. Congratulations also to Mrs Knight-Geddes who joined us this year as Head of Business Studies following the retirement of Ms Karen Neill. During her years at Wallace, Karen enjoyed outstanding success with successive teams of students in Young Enterprise so we are delighted to see Mrs Knight-Geddes is also inspiring students to explore the world of business.
Last modified: April 8, 2022