The IET Faraday programme has been developed by the Institution of Engineering and Technology, Europe's largest professional organisation in the field. Its aim is " to introduce a new generation to the sheer excitement of science, technology and engineering."
On Monday 3rd June 2019, 6 Year 9 pupils travelled to Queen's University, Belfast to participate in the 2018-19 Faraday Challenge. Team members were: Jodie Fletcher, Finlay Herdman, Katie Hunter, Max Kamalarajah, Neil Simpson and Aoife Watson. Seven teams were in attendance from a variety of schools across Northern Ireland.
Students were briefed on the challenge on arrival. Each team was required to plan and design an accessory of their choice to assist the launch of the James Webb telescope into space in 2020. They were given a fixed amount of 'Faraday' currency and an information pack about their challenge. Pupils had access to a shop to buy equipment for their prototype, a renting station where they could borrow equipment, a cutting station, a 'how-to' station where they could find guidance on how to build and use the equipment available in the shop and finally on-site engineers whom they could consult for advice.
All stages of the challenge were assessed: initial planning and design, budgeting, teamwork, adaptability and prototype functionality before the assessment of their presentation.
The team worked effectively, consistently evaluating their work whilst overcoming some challenges along the way; their communication skills, determination and resilience ensured they had a functioning prototype within the time constraints. During their presentation they communicated coherently and articulately , responding adeptly and confidently to questions. Despite some close competition from other schools the team secured their victory and heard the challenge co-ordinator commend their team spirit and adaptability; the Wallace students were described as "visibly the strongest candidates from the off."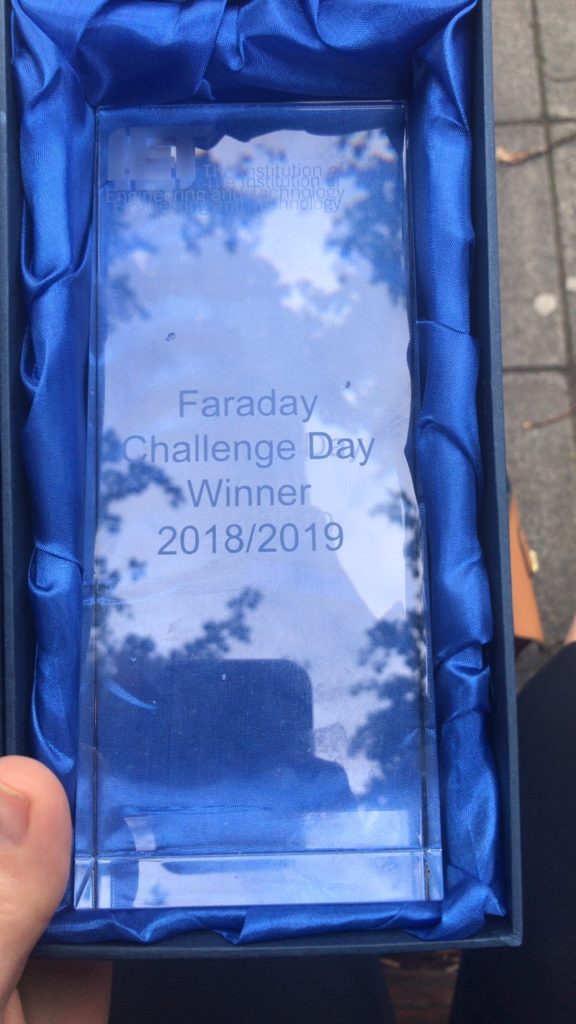 The students were delighted to receive their prizes : a certificate commemorating the event, a goody bag and a £10 amazon voucher. A stylish glass plaque also celebrates their achievements in the competition.
Warmest congratulations to each of our young scientists and their teachers and a huge thank you to Mrs Davison who accompanied the team and fuelled their confidence. The school is delighted to add this victory to our tally of success in academic competitions and we look forward to encouraging our pupils to participate in further challenges in a range of subjects.
Last modified: June 6, 2019