Festive dressing, delivery of gifts and the iconic sixth form shown fondly known by decades of Wallace pupils as Christmas Pie all helped to create a fun-filled end of term. Our last "live" Christmas Pie had been in December 2019 as 2020 saw us facing the Boxing Day lockdown and 2021 was a filmed event which went live on the last day of term.
Thanks to the generosity of our Bursar, Mr Tracey, gifts were distributed to students who had been randomly selected from the Parent Mail data base; the gifts ranged from £20 Amazon vouchers to reindeer slippers, Ted Baker toiletries to Christmas cookie kits and all sorts of wonders in between.
The day is greatly enhanced by the festive dressing and judging by our Twitter feed many enjoyed Mr Cleland's little film entitled A Quiet Start to the Christmas jumper day which starred some impressive inflatables! We had some sophisticated and stylish looks … but generally we embrace looks more reminiscent of glam rock, Noddy Holder and Wizard in their heydays! We had Christmas tree dresses, glitter ball looks and tinsel galore whilst the Grinch also made more than a few appearances.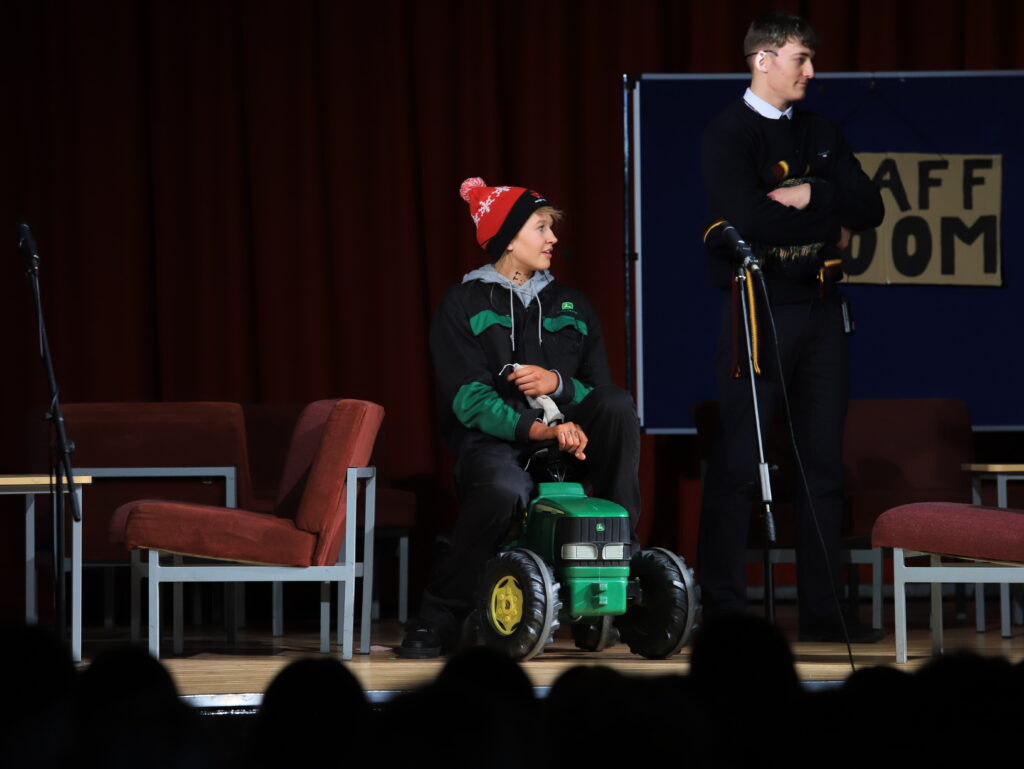 Christmas Pie is the main event of the penultimate day of term and just like a Christmas pudding the Pie was full of traditional ingredients. Excellently compèred by Alfie and Lottie we had bands, dances and the famous (notorious? ) staffroom sketches with teachers presented with varied degrees of accuracy. The Principal could feel very happy with the very stylish dress and shoes worn by Deputy Head Girl, Sophie Orr but this probably represented the most chic ensemble on view!
The boys' dance was taken extremely seriously by its participants not least in their attention to details of costume; the majority clad in black with a couple of Mrs Claus dresses thrown in for a touch of seasonal colour.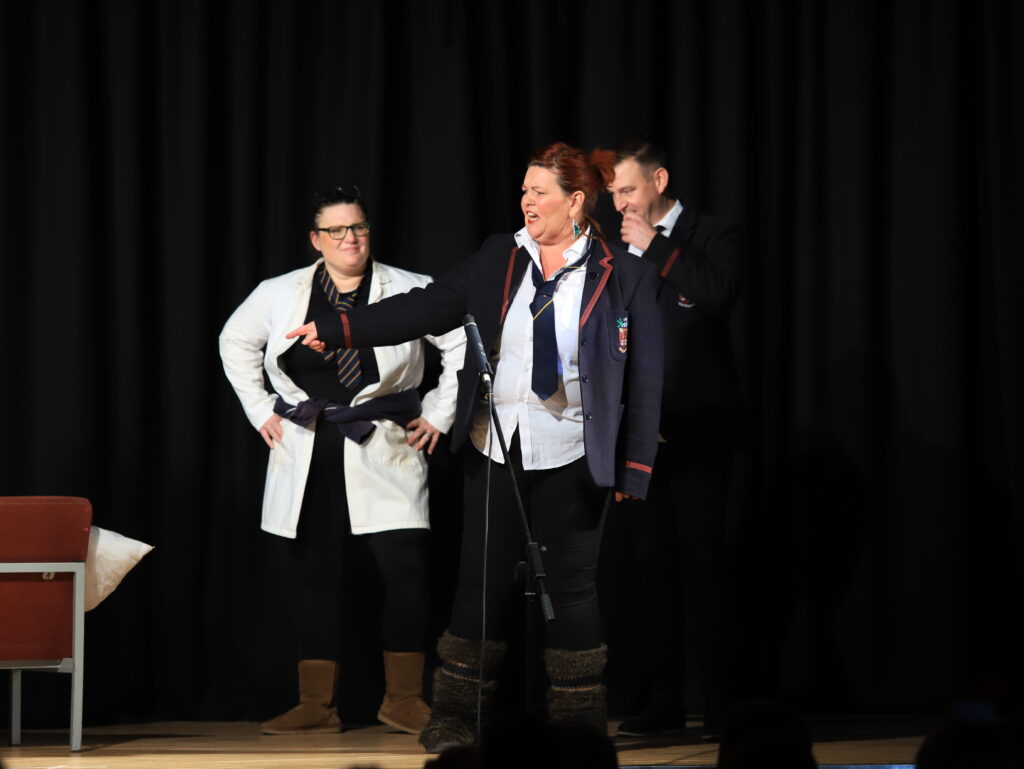 The staff pantomime was a huge success. Starring Mr Armstrong as Snow White (with a wig to rival Hamza Yassin's real hair), Mr Glenn as Sleepy, Mrs Rogers as Sneezy and Mrs Hawthorne as the handsome prince success was assured. Add to that some great performances from younger staff (Mr McKee and Mr McGeown) the teachers proved that despite a long term their collective sense of humour was intact.
The donations for Festive Dressing and Christmas Pie were shared between the Salvation Army (Christmas Dinner appeal) Simon, NI and Chest, Heart and Stroke and we were delighted to present cheques to all these charities.
Last modified: January 4, 2023