In Year 13, students are given the opportunity to set up and run a business in the Young Enterprise Company Programme. They have the opportunity to learn the roles and responsibilities which exist within businesses and it is certainly invaluable experience for those who take part in this scheme. This year there are six companies within Wallace' Young Enterprise Company: Buddy's Books, Picture Perfect, Belina, Steph n' Stitch, Little Chefs and Staple Stationary. This year, the Young Enterprise Companies in Wallace High School have performed fantastically at two different Trade Fairs! Below is an update on the success of our Year 13 students at two recent competitions:
At the North East Area Board Trade Fair, held in the Abbey Centre, Newtownabbey the Companies won all the prizes they were eligible to win!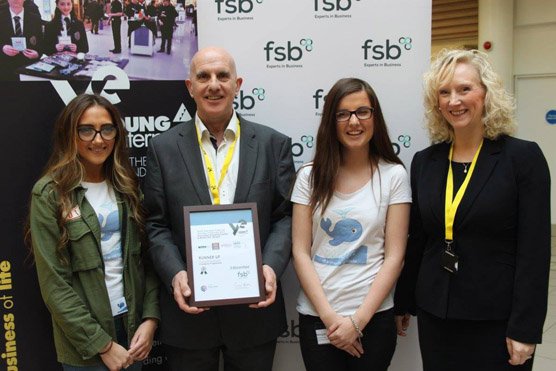 Little Chefs have produced a unique Healthy Children's Cook Book that includes easy to follow recipes with an accompanying activity and even includes a recipe donated by Jenny Bristow! They won the 'Best Visiting Company Award' and one of the company members, Pippa, won the 'Best Sales Person Award' for her outstanding record of sales on the day.
Buddy's Books have produced an interactive children's story book, about the adventures of Buddy and dog on his travels around some famous landmarks in Northern Ireland. They won the 'Best Product Award' for their innovative book.
Balina spotted a gap in the market by selling high quality 1 litre water bottles to encourage everyone to drink the recommended 2 litres of water per day. Their bottles were designed to follow the 'handy hourly' markings. The bottles have also an excellent storage compartment in their base for keeping things such as gym locker keys, protein powder to add to the water or fruit for a healthy snack. They won the 'Best Marketing Award' and the 'Mystery Shopper Award' which was a brilliant achievement!
Steph n' Stitch have produced hand stitched goods such as coin purses, make-up bags, pencil cases and scrunchies. They also had a successful day with company member, Christine, winning the 'Best Sales Person Award' jointly with Pippa!
At the South East Area Board Trade Fair in the Bloomfield Shopping Centre, Bangor, Wallace Companies were again to win all awards available!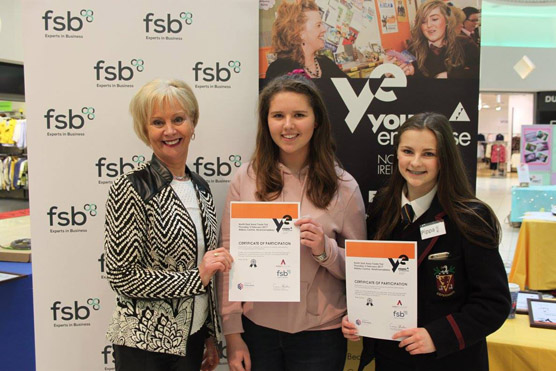 On the day Little Chefs beat all of their competitors to win the 'Best Overall Company Award' and the Runner Up went to Balina.
Little Chefs also won the 'Highest Sales Award' on the day having achieved the highest value for sales of all companies trading with Balina impressively winning the 'Best Marketing Award' and the 'Best Product Award!'
Staple Stationery who have produced a calendar in the run up to the new year and have now diversified into selling mystery books/DVD packages and their own custom made notebooks won two awards. They won the 'Social Media Award' for their social media presence on Facebook, Twitter and Instagram. They regularly post on their social media telling their followers of their latest products and their release dates. They also superbly won the 'Mystery Shopper Award!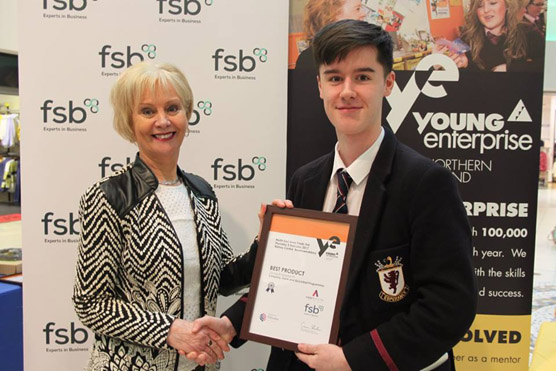 All Companies have achieved a tremendous amount from taking part and competing against their peers at the Trade Fairs. They displayed their hard work, dedication and enthusiasm to the judges and their ability to work well in their teams to produce and market a range of unique, high quality products to customers. They continue to demonstrate the very high standards achieved by students from Wallace High School in the Young Enterprise Programme and are a credit to themselves and to Wallace! Congratulations must also go to Ms Karen Neill, who has guided our students to remarkable levels of success in various Young Enterprise competitions!
Last modified: June 16, 2020