Wallace High School Year 10 students certainly showed they had plenty of "joie de vivre" when they emerged victorious from the prestigious Francofest held at Queen's University, Belfast.
The annual event, organised by NICILT, is aimed at increasing interest in French culture. Assistant Head of Modern Languages in Wallace, Miss Kerrie Ferguson, described Francofest as " A wonderful event. It boosts the pupils' confidence, increases their motivation for French and it also encourages them to develop new skills."
Preparations started back in November when some very enthusiastic Year 10 pupils met to discuss their ideas for a trade stand.
After careful consideration it was decided that 'Cupcake Couture' would represent Wallace at this year's event, with team roles including Baker Caitlin Dunn, Product Sourcer Josh Kamalarajah, Head of Advertising Katrina Mason and Project Manager Isaac McIlwrath. Ably supported by Paige Crookshanks, Aneisha Foyle, Molly Harper and Gheed Ownallah, the group met weekly to decide on their company logo, their advertisements, their business cards, their products, their product history, their prices and (of course!) to practise their French.
As well as producing luxury cupcakes with innovative French influenced designs, they also wanted to have a French themed cake and a chocolate 'Tour Eiffel' as their 'pièce de résistance'. This was no mean feat and huge congratulations must go to Josh who spent five hours making the masterpiece.
On Friday 8 February Caitlin, Josh, Katrina and Isaac set up their trade stand in the Whitla Hall at Queen's. Once their notice board and table had been expertly set up and decorated, the team donned their costumes and browsed other stands to check out their competition, before being interviewed by four French judges. At this point the team of four had to carry out a six minute role play on their products, their product history and their best prices. Each judge then placed an order and the pupils had to accurately copy down all the necessary details.
Following a fascinating talk from guest speaker, Benoît Le Dévédec, from the Institut Français in London the Wallace team went on a tour of the beautiful University campus. The eagerly anticipated results were then announced, with Wallace emerging as overall winners.
Josh Kamalarajah commented:
"The whole day was so much fun and it was amazing to get to practise French outside the classroom and discover that we could actually be understood enough to run a business. The highlight, of course, was being "l'équipe gagnante"! Thank you so much to Miss Ferguson and Clémentine for all their hard work in preparing us for the event. C'était fantastique!"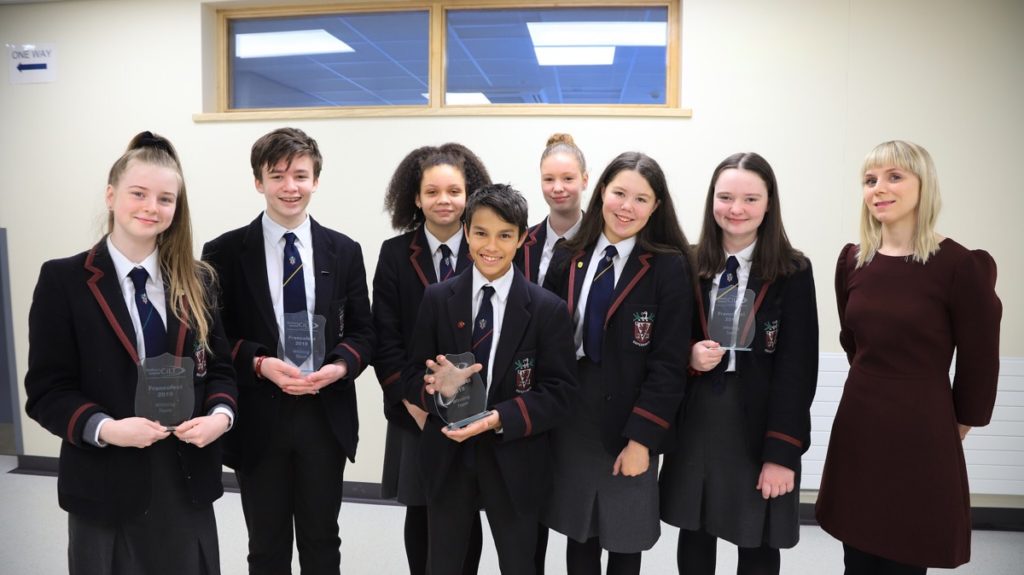 Project Manager Issac McIlwrath expressed the team's thanks to NICILT for offering this amazing opportunity:
" Merci NICILT. Nous garderons toujours un très bon souvenir du Francofest 2019. C'était une expérience inoubliable."
Kerrie Ferguson concluded:
"I am very proud of the Wallace team as they were motivated, inventive and truly embraced a love of European culture. Francofest highlights the usefulness of language skills in business today, raising the career aspirations of the young learners and fostering closer relationships between schools, higher education and business."
The Modern Languages department is already excited about Francofest 2020.
Last modified: March 1, 2019