Some single names inspire a generation. Elvis. Kylie. Beyoncé. Greta.
August 2018 saw Greta Thunberg sitting down alone outside the Swedish parliament building with a hand-painted banner. So began a global revolution. Today generations of pupils, both in primary and secondary schools, see her as an inspirational figure as they try to raise awareness of eco issues in their communities.
Wallace's Eco Club under the leadership of Miss Judith Wilson is raising awareness in our school community. A group of enthusiastic pupils in Years 8 and 9 meet weekly to learn about environmental issues and to translate ideals into actions. Given that "making" is often a highly successful form of learning, the group has enjoyed a range of seasonal activities including the following: wreath making using leaves and re-cycled cereal boxes, bird food and fat balls, sustainable Christmas decorations, sustainable bird feeders and pancake making on Shrove Tuesday. The pancakes were made using fair trade ingredients and organic local produce from the Wilson family farm.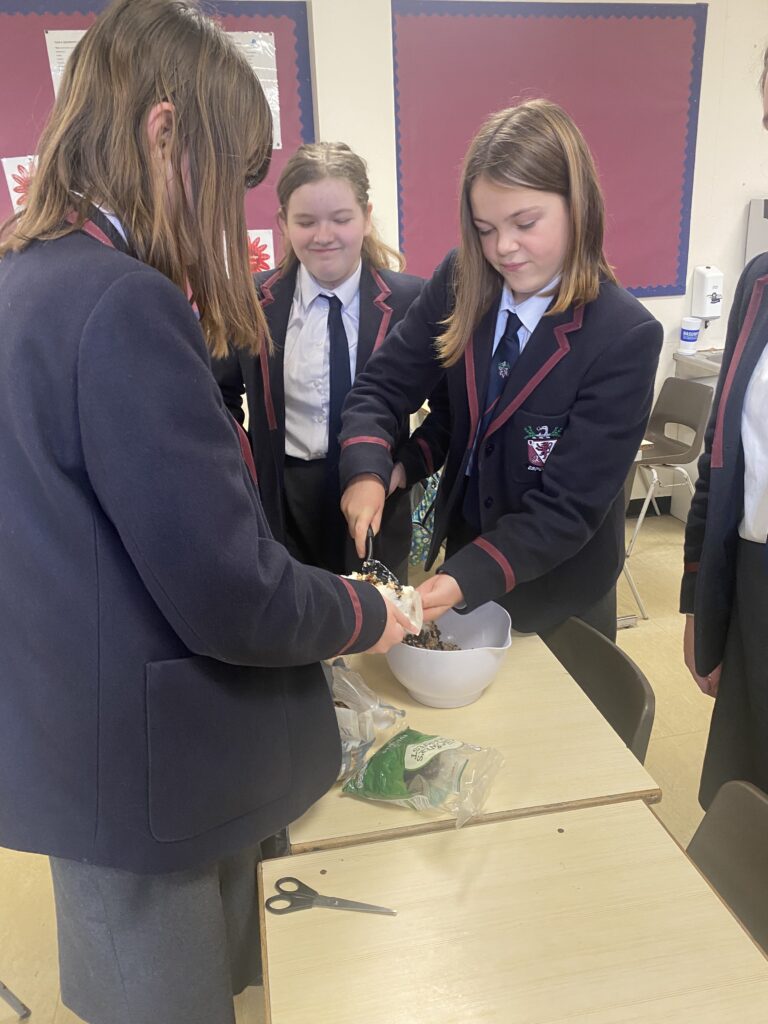 The pupils have been pro-active in trying to improve both their immediate school environment and the Lisburn community landscape. Regular litter picks have tidied the school playgrounds, sustainable bird feeders tied to our fences have given birds the opportunity to feed and pupils have planted seeds in compostable pots to beautify their own gardens. Wallace Park is a familiar and favourite location for many local families and the Eco Club members enjoyed meeting staff from Lisburn and Castlereagh City Council and helping them plant wild flowers. The group also visited Wallace Park during the Great Schools' Birdwatch and completed surveys for the RSBP (Royal Society for the Protection of Birds) which formed part of a UK wide survey.
Visiting speakers also enriched the pupils' experience. Our Head Of Maintenance, Mr Nigel Hylands, showed the pupils some of our recycling processes at school, discussed our energy and water usage and indicated where sustainability could be improved. Mr John Kelly (Lisburn and Castlereagh City Council) provided a great insight into recycling within the LCCC area, bringing with a number of different materials to illustrate his points. We were also delighted to welcome Mr Ian Campbell from the charity Ten Foundations. The charity has a cafe and gift shop on the Lisburn Road and works with vulnerable families living in poverty in the Philippines. The shop sells bags and other Philippine products made from recycled and environmentally-friendly materials such as tetra packs, crisp packs, rice and straws.
Speaking in 2019 of the activism amongst schoolchildren which she inspired Greta observed:
"I think we are only seeing the beginning. I think change is on the horizon and the people will stand up for their future."
We look forward to welcoming some new Eco Club members in our September 2023 intake and thank Miss Wilson for her enthusiasm for all things green!
Last modified: June 7, 2023