Mrs Celia Gourley OBE was one redoubtable lady! Born Celia Hadden she attended Wallace Preparatory Department and Wallace High School along with her younger brother Adrian; he recollects Celia claiming that her love of music was first fostered in the Prep and nurtured in the grammar school. Her passionate enthusiasm for Gilbert and Sullivan remained with her always; she would often speak fondly of the personal highlight of performing in Wallace's production of The Mikado as one of the three little maids. School friends recall a fun-loving pupil who had a genuine appreciation of the school canteen; Celia once devoured in excess of ten scoops of mashed potato! Other school highlights were Geography field trips to the Mourne Mountains and Donegal and supporting the boys at rugby matches, the latter being a continuing passion. In recent years she followed the achievements of former pupils Chris Henry and Jacob Stockdale with immense interest and insight.
It says so much about Celia that she could make quips about Ironside (an American police drama from the 1970s about a tough San Francisco police inspector paralysed in a shooting) whilst others (especially pupils) defined her not by her wheelchair but by her gloriously pink hair! Originally tested out in celebration of her sixtieth birthday it became her visual trademark and a symbol of all that was independent and stylish about her. She was an inveterate shopper and loved nothing better than a bargain found in House of Fraser or Debenhams. The terrorist incident which robbed her of her legs would impact her for the rest of her days but she was determined it would not define her life. Coming round after sixteen hours in theatre she vowed to her mother "They will not beat me." A close friend reminisced:
"After the bomb I went to visit her parents in Castle Street. Her father said, 'Go and see her. She's an inspiration' and when I arrived that's what I found."
Adrian described Musgrave Park Hospital as a "place echoing with howls of laughter. There was an amazing spirit in the place."
Celia's courage and resolve ensured a remarkably successful professional life as a senior civil servant most notably in the IDB (Industrial Development Board) where her influence was literally worldwide. After the death of her beloved husband Bob she continued to travel extensively but her favourite location was probably London where she liked to attempt to beat her own personal records of how many West End shows she could see on one trip!
Her contribution to life in Wallace was whole-hearted. Serving as a Trustee of the school she took a keen (forensic?) interest in every dimension of the school's life. The gala dinner at the Titanic Hotel in February 2019 saw Celia as Chair of the Fundraising Committee challenging attendees to "Put Wallace first". It was no empty exhortation. Celia had more than an element of our founder's legendary "spirit of generosity" and she was not asking of others what she was not prepared to do. Celia sponsored four bursaries a year amounting to £280 per student in memory of her father; these were her Hadden bursaries. She also gave a one-off gift of £50,000 (£62,000 with Gift Aid) to the Music Department to purchase orchestral instruments and set up her Celia Gourley Scholarship. This award of £3,500 is presented to the A-level Music student with the highest score who is reading Music at tertiary level. Former winners (2014-2019) pay their tributes in the following presentation.
A Tribute to Mrs Gourley from The Wallace High School on Vimeo.
Described by Head of Music, Mr David Falconer, as "a colourful, engaged and determined lady" Celia never hesitated to share her opinions with David. After the first Nine Lessons and Carols concert in a very picturesque venue Celia candidly commented that she had enjoyed the event greatly but the venue was "too cold." David also noted that:
"The celebration concerts in 2018 were perfect for Celia. She was so delighted by every single performance, from the Preparatory Department to the virtuosic soloists and the choirs and orchestra. Her gift of orchestral instruments was a huge commitment on her part and we continue to reap the benefits."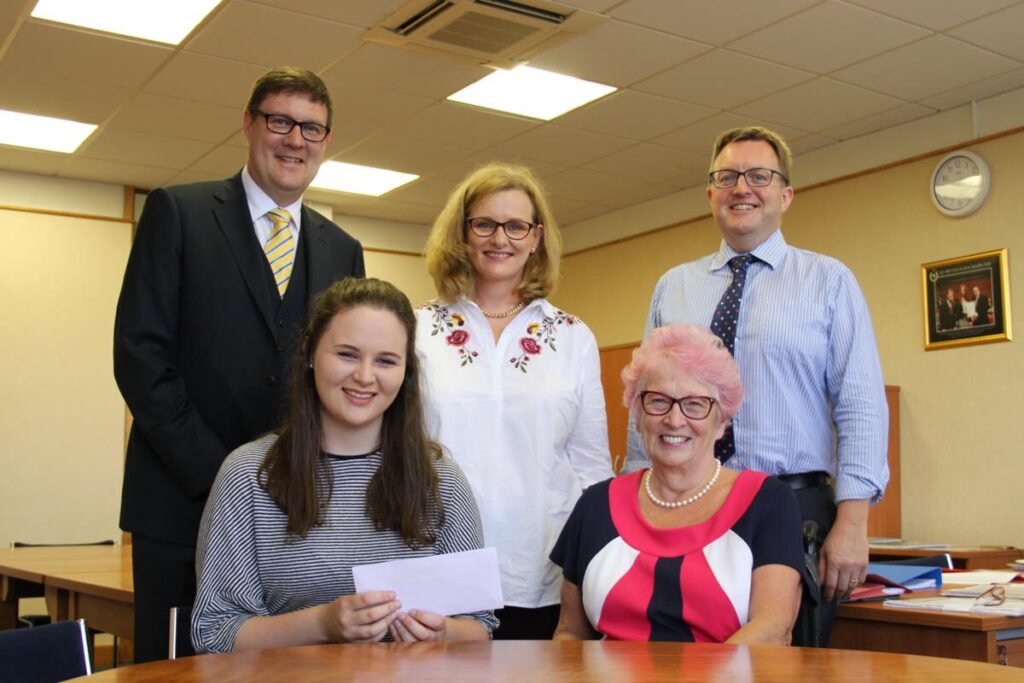 Wallace's Principal, Mrs Deborah O'Hare commented:
"Celia was a true Wallace woman. Her loyalty to the school expressed itself in attendance and actions; she was always present at creative events, she was a forthright and incisive Trustee of the school and she was unrivalled in her emotional and material investment in the school. Generous in life to us, she was open about her intention to be generous in death and was pro-active in encouraging others to be the same."
For the Chair of the Board of Governors, Mrs Sandra McCabe Celia was:
"A genuine advocate for the school, a lady characterised by energy and a true sense of fun. All the members of the Board of Governors could see how authentic her affection for the school was and her enthusiasm for all the improvements made in recent times."
Celia was full of jokes about her partiality for a glass (or two) of her favourite gins and she was less than pleased about the consequences of Brexit when her favourite wine club halted deliveries to Northern Ireland. At her funeral service her much-loved godson Stuart McLeese paid eloquent tribute to her love of life and her sense of fun even reading a letter from the lady herself which reminded mourners to have "a bl***y good party" afterwards.
Perhaps the final word on Celia should be an anecdote she herself liked to share always noting the ambiguity of the original speaker's delivery:
"Celia…well, when you hear that name you certainly know who it means."
Last modified: April 26, 2021