On a crisp October Wednesday 60 Year 11 Food and Nutrition students enjoyed an informative visit to the local Draynes Farm. After getting attractively attired in white coats, hair nets and shoe covers the pupils toured the milk processing plant learning about pasteurisation, bottling and storage. Michael Drayne also educated the students on how the farm site has changed over the years. He talked in great detail about the farm's resources, recycling and how the increasing energy costs are affecting the business.
Chris, the farm manager, and a couple of students headed off in the direction of the huge freezers that are on site and returned with an impressive selection of Draynes Farm delicious ice-cream. Ice-cream in October never tasted so good! The students were also treated to a tour of the impressive machinery where the tasty ice-cream was made. Following a very popular sampling of ice cream the pupils then explored the farm observing the new-born calves in their tiny 'hotels'- a great opportunity for the students to take a few selfies with the young calves. Students learnt how the cattle can be specifically bred to meet certain requirements.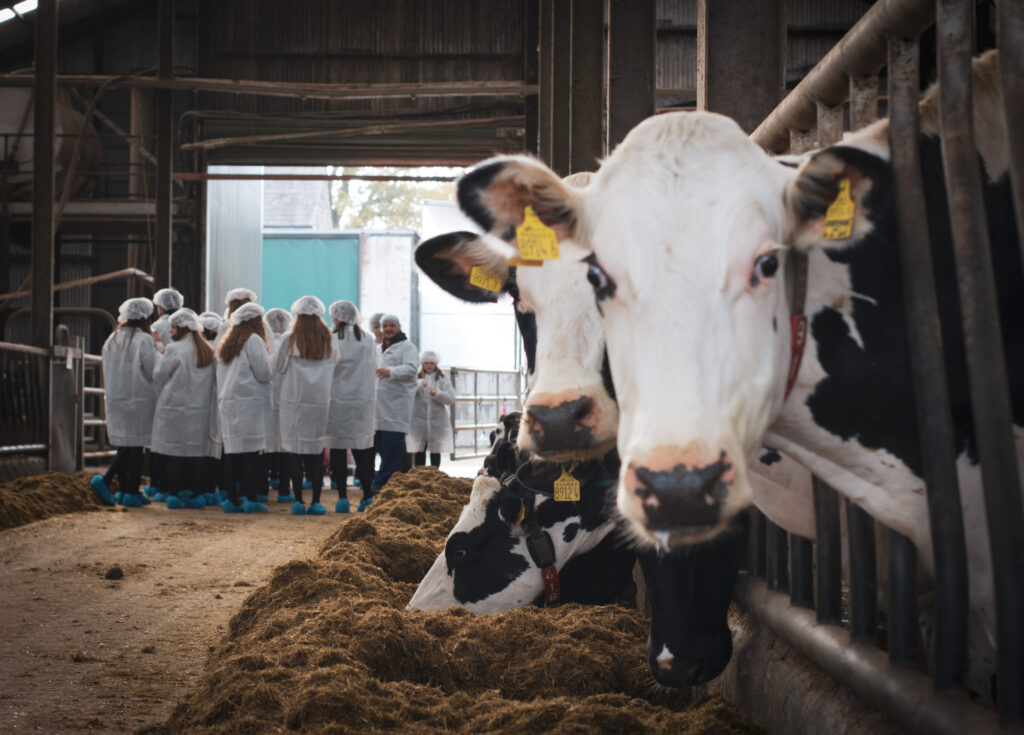 After a brief Q&A with Chris, the students were taken up to the viewing gallery where they got a superb view of all the cattle feeding and a look at the one and only bull on site. They saw over 150 cattle feed on silage and got a close up view of the modern robot milking system in action. Chris, who has years of experience under his belt, was so passionate about his work and truly enjoyed sharing this with the students. Michael, Chris and Owen from Draynes Farm were fantastic guides and gave us a useful insight into the pressures facing this type of intensive farming.
Our pupils received a great welcome and are well equipped to apply their experience to their GCSE Food and Nutrition course.
Last modified: December 12, 2022